Founding Mothers and Pomegranate Drinks....
When I was an apprentice butcher at Acords Market growing up in Laguna Beach, there were four guys behind the counter: Shelley, Jon, Tom and Gabe. They were all good guys but this posting involves Gabe. Gabe was a funny fast talker from Brooklyn who had an story for every situation, many of which involved, shall we say, the flexible moral landscape of certain elements in Brooklyn. One story about the perils of gambling involved a guy who worked at a butcher shop there who wasn't able to pay his debts.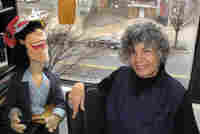 Gabe said he found the guy one morning dangling from a butcher's hook in the meat locker. Gabe also said he decided maybe California would be a better place to look for work.
As a fifteen or sixteen year old apprentice butcher, I listened very closely.
He also showed me about 70 ways to cheat customers at the butcher's counter. Putting your thumb on the scale was the least of it.
This matters only insofar as our dazzling visiting lecturer, Karl of the Columbus Dispatch, was telling us not only what TO do, but what NOT to do. So let me say, relying on the integrity of my Knightness, that these pictures are not Photoshopped to insert basketballs, add phantom missiles, create a golden aura, clarify the colors of the president's jacket, or anything else.
Instead, I took pictures depicting one of my favorite NPR folks, Mme. Stamberg, and a restaurant nearby where I remember consuming more than a few pomegranate drinks......and as Gabe might have said, no thumbs on the scale.