Time Travelers: Impeachment Edition : As A Matter Of Fact Blago gives Mecham a run for his money.
Time Travelers: Impeachment Edition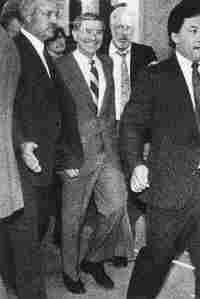 Rod Blagojevich is back in the news today, the US attorney's office said to expect a filing on "a significant criminal matter" having to do with the former governor. So since we're down here in the archives, let us take this moment to time travel — back to a place where things were simpler, but recordings were much more difficult to transfer from place to place. The year is 1988, the place is Arizona, and on April 4th, the state senate removes Governor Evan Mecham from office, finding him guilty on two charges of misconduct.
In this case, "misconduct" is sort of a vague word for "obstructing justice by trying to thwart an investigation into charges that an aide had made a death threat against a grand jury witness." But wait, there's more! Fast-forward to 1990 when the former governor attempts a re-entry into politics. I think I'll let NPR's Howard Berkes tell the story...