Patron Profiles: Tom Huizenga
Welcome to the second installment of our Patron Profiles feature, the series where we introduce you to our library clientele. Today's victim is Tom Huizenga, NPR Music's classical music producer.
Tom's a regular fixture in the Broadcast Library which makes us quite happy, not only because he's got a great sense of humor, but also because his coolness quotient is way over the top. When Tom was a teenager his favorite local radio station--which played the likes of John Coltrane and Nick Drake--suddenly switched its format to hard rock. Never one to follow the crowd, Tom soon found the classical music station. The next thing he knew, he was riding is bike all over town blasting classical music from the transistor radio he jimmy-rigged to handlebars. Now that's what I call cool.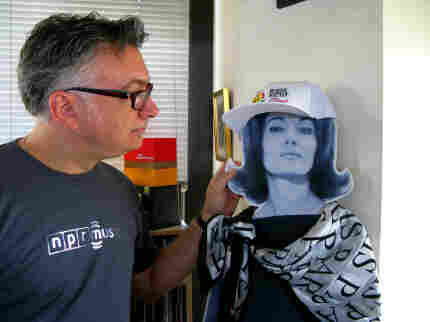 When Tom visits the library, which happens quite often, we usually find him hunting through our massive, 35,000 strong classical music CD collection. The classical collection is separated from the other discs because it is arranged by record label rather than Dewey decimal. Within each record label grouping, the CDs are further organized by the record label's catalog number found on the spine. The classical music CDs are organized this way because it's possible there may be a thousand different versions of the same classical music work, thus it's easier to organize the CDs by record label rather than the composer.
So, how does Tom find the CDs? He uses the website Arkivmusic.com. Arkiv music allows users to search by composer with results that include the record label and catalog number. In addition to the Arkiv music website, Tom regularly uses the classic reference work Grove Dictionary of Music. It helps him verify, identify and explain all things classical music.
When prompted to reveal his favorite composer/piece, name after name spills forth...Shostakovich's string quartets, Stravinsky's The Rite of Spring, Bach's St. Matthew Passion, and Janacek's Jenufa. The list goes on but due to hand cramps, I had to stop writing. In the coming months Tom will be leading the charge to launch NPR's new classical music blog which will showcase original classical music content from throughout the public radio system. Maybe we'll see even MORE of Tom when that happens. We certainly hope so.