Salt Pork & Politics : Planet Money NPR's 100 Days checks in on an old friend in Chicago.
Salt Pork & Politics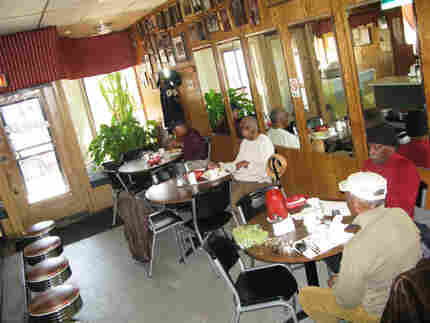 Yes, traveling across the country means seeing and tasting new things. But once in a while you've got to go with an old standby — like the scrumptious soul food served up by Izola White.
I interviewed the 85-year-old last year at her diner on Chicago's South Side and got my first taste of her salt pork and greens. This week, I went back for lunch and to check in.
Menu was the same — thank heavens. The life-sized portrait of President Obama is a new addition.
White said, business has been struggling. Here she is chatting about the president and the recession.
I got to talking with one of her lunch patrons, a local pastor named David Lambert.
I was struck by his complaints about the media. He said there's been too much criticism of President Obama in the news these days.
Covering the Bush White House for 8 years, I heard a lot of this from Republicans, especially as Mr. Bush's approval ratings declined over his two terms. Now, barely two months into Mr. Obama's presidency — and with his approval ratings in the 60s — some Obama supporters feel he's not getting a fair shake.
This wasn't the first I heard of this. A few days earlier on my drive, I dropped in for coffee at Boo's Crossroads Diner in Terre Haute, Indiana and came across a table full of women. They've been having breakfast together weekly for 25 years.
Take a listen to Betty Martin, a 75-year-old retired library director. She said scrutiny of Mr. Obama's approach to the economy surfaced way too early.