Cramer, Not So Mad?
Some soon-to-be-published research finds that CNBC's Jim Cramer's stock picks aren't so crazy.
Two professors at Northeastern University found that following Cramer's advice yielded a 12% annual return on average, compared with 7% for S&P 500 index over the same period.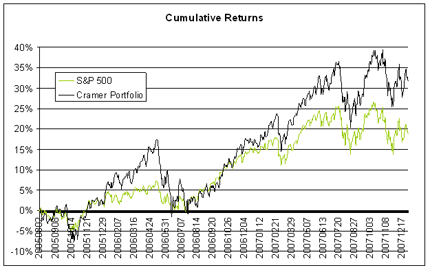 You'd want to track his picks over a longer period of time to see if that's more than just luck.
The researchers, Paul Bolster and Emery Trahan, write:
"Overall, the results suggest that, while Cramer may be entertaining and mesmerizing to many of his viewers, his aggregate or average stock recommendations are neither extraordinarily good nor unusually bad."
The paper is scheduled to published in the journal Financial Services Review.
Here's an earlier paper analyzing Cramer's effect on the market.