February's Snowstorms Cloud Jobs Numbers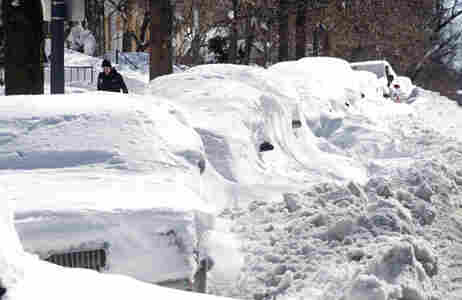 Tomorrow morning, the government will publish its monthly jobs numbers for February. The figures are supposed to answer a key question about the economy: How quickly are we adding or losing jobs?
Because of last month's blizzards, though, the February numbers will be rather messy.
The numbers come from a government survey that always asks businesses how many employees were paid during the pay period that includes the 12th of the month (regular employees get paid once per pay period).
As it happens, Feb. 12 was right when the East Coast was getting hammered by big snowstorms that kept lots of people home.
The snow won't make any difference in the survey for people who made it into work at least once during the pay period that included Feb. 12. The snow also won't affect people who didn't make it into work during that period but got paid anyway.
"We're talking about a very particular type of worker — an hourly worker, maybe only works a few days a week, and really could miss work and not get paid," Joel Prakken, the chairman of a consulting firm called Macroeconomic Advisers, told me.
Somewhere between 150,000 and 220,000 people may fall into that group, Prakken said. (His rough estimate is based on the effects a big storm in 1996 had on the numbers.)
That group is big enough to have a significant effect on the numbers. Between December and January, for example, total number of jobs declined by 20,000.
So the effects of the snowstorms are likely to overwhelm whatever monthly change would have happened in February if the weather had cooperated. The numbers will paint an unrealistically bleak portrait of the employment landscape.