Jobs Picture: Still Bleak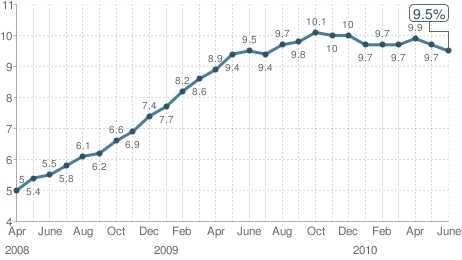 The government's big monthly jobs report is out this morning. It paints a picture of a weak labor market that's creeping sideways -- not getting much worse, but not getting better either.
The report's two headline numbers are both a bit misleading on the surface. One's not as bad as it sounds. The other's worse than it sounds.
1. The total number of jobs fell by 125,000 in June.
Why that's not as bad as it sounds: The loss of jobs was driven largely by the Census Bureau, which cut 225,000 temp jobs during June. The private sector -- the key engine of long-term job growth -- added 83,000 jobs during June.
2. The unemployment rate fell to 9.5 percent, the lowest level in almost a year.
Why that's worse than it sounds: The unemployment rate includes only people who are looking for work and can't find it. The rate fell in June not because more people had jobs, but simply because fewer people were looking for work.
Also in this morning's jobs report:
The unemployment gender gap widened: The unemployment rate for women fell to 7.8 percent. The unemployment rate for men rose slightly to 9.9 percent.
Among the unemployed, nearly half have been unemployed for more than six months.
The private sector has added 593,000 jobs so far this year. But there are still 7.9 million fewer private-sector jobs than there were in December 2007.