Where Are They Now? An Update On The New Finance Rules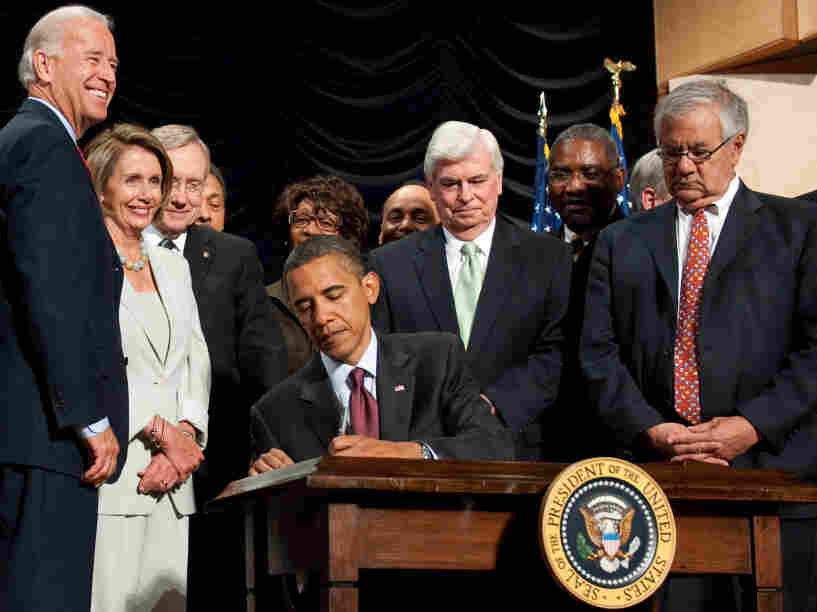 The finance bill Congress passed last year left lots of unanswered questions. It's up to regulators to provide the answers.
Here's an update on where some of the key questions stand, and what to expect in the coming months. We'll have more on today's podcast.
Volcker Rule
The general idea: Restrict banks' ability to make speculative bets with their own money.
Still in question: Banks will be allowed to take short-term proprietary positions if they believe they can sell the investments in the "near term." Regulators will have to decide how long the "near term" is.
The deadline: The Volcker Rule comes into effect no later than July 21st, 2012. Financial institutions get up to five years after that to comply with the rule.
Resolution Authority
The general idea: Give regulators the power to step in and take control of large, failing financial firms deemed "systemically important" (regulator speak for too big to fail).
Still in question: If the FDIC needs to move in on a giant firm, markets could be thrown off balance, making it hard to find a fair price for the firm's assets (think how difficult it was to price toxic assets when the housing market went bust). If the FDIC over-values a company it will have right to claw back some of the money it has paid back to creditors.
The deadline: Final regulations are to be in place by the end of the year.
Capital Requirements
The general idea: Require banks to hold more more money in reserve.
Still in question: How U.S. rules will fit with new global banking rules known as Basel III.
The latest: Both Basel III and US regulations will raise requirements substantially. The required ratios are calculated differently and regulators need to make sure that the US regulation won't be at odds with with the Basel rules.
The deadline? Both regulations are to be implemented by the end of 2012. Banks are given 10 years to comply with Basel III. U.S. banks have three years to comply with the new U.S. regulations.
OTC Derivatives
The general idea: Require some over-the-counter (OTC) derivatives to be traded through clearinghouses, in order to make the system more transparent.
Still in question: Which types of of derivatives need to be traded through clearinghouses?
The deadline: The rule is supposed to be in place by July. CFTC commissioner Scott O'Malia has described the deadline as unrealistic, because of budget strains.