Consumer Confidence: The Last Big Economic Release Of 2013
Today on New Year's Eve, let's look at the last big economic release of 2013: consumer confidence.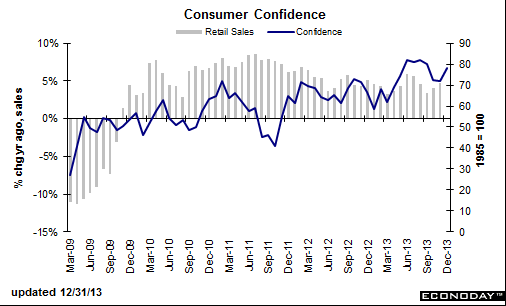 Consumer confidence ended the year on a strong note. The index grew to 78.1 points for the month of December, a nice rebound from the big hit it took in October.
The consumer confidence index surveys 3,000 randomly selected people and asks them 1) what they think economic conditions are right now, and 2) what they think economic and employment conditions, and their family income, will be like 6 months from now. These components are then averaged together. This data is compiled relatively quickly, making it an early signal on how the economy is doing for that month.
Since consumer spending drives two-thirds of GDP, the consumer confidence index should ideally gives us an glimpse into the minds of consumers and how they're feeling about the economy and their prospects. Given how nebulous the notion of confidence is, it's never going to be an ideal indicator. But data is released in such a timely manner, it's worth a look as a quick barometer of how consumers are feeling.