Plastic Surgery Disasters
There was an article in yesterday's New York Times about how the Strawberry Shortcake doll is getting a 21st Century makeover. The doll, popular in the 1980s, is being repackaged as a cell-phone-using, lip-gloss-wearing cutie, as opposed to the slightly frumpy, cat-carrying girl she used to be. As long as her hair still smells of strawberry and her friends Huckleberry Pie and Apple Dumplin' are updated too, I guess I don't really mind.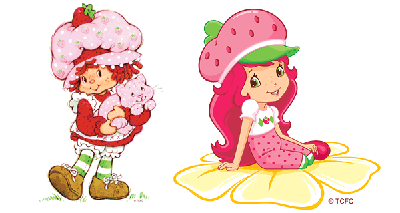 Yet the repackaging and re-imagining of formerly popular toys in order for them to appeal to today's youth does remind me a great deal of one current trend out of Britain, which is to export a new batch of blue-eyed soul in the form of (thus far) Duffy, Adele, and Amy Winehouse. It's almost as if Sandie Shaw, Cilla Black, and Lulu (let alone Dusty Springfield) never existed. The 21st Century versions of these songstresses look and sound retro; in fact, the only update I can think of is that the U.S. is paying more attention to their music this time around (tattoos and a drug addiction hardly count as an improvement on the old.)
Listen to Cilla Black's "Love of the Loved"
Listen to Sandie Shaw's "Long Live Love"
I like new. I like influence drawn from various or, sometimes, obvious genres. I am not averse to updating or reconfiguring the old. But if an artist can't find a way of making the music feel like it's been reborn then what is the point? There are plenty of bands that make you feel like you are hearing a genre, a form of music, or a playing style for the first time. In my opinion, The White Stripes are a good example of a band who did more than merely copy the blues, whereas The Bravery exemplify the most benign and pointless regurgitation of new wave and post-punk. There are exceptions, of course, and moments in our lives when we just want someone to hit that nostalgia button we have inside of us, the one that brings us back to a halcyon year or a bright day. But why do we always need something new to love or an updated model? Do I need a new version of the Beach Boys or The Clash? No. Will anyone make an album that sounds exactly like Let It Bleed but that is somehow better? Doubtful. I'd rather listen to artists like N.E.R.D or Joanna Newsom, Man Man or Gnarls Barkley, who blend influence with inspiration. Music doesn't need to be compartmentalized into old and new when it really just boils down to (our own idea of) good and bad.

Listen to Duffy's "Mercy"
So, I think what irks me about the new British "soul" singers is that they feel like a gimmick. Maybe enough time has passed so that few people know or remember the style in its earlier form. Maybe the oldies need a face lift. But does each generation need their own, updated and made-over version of the late greats? Shouldn't the late greats be met with the new greats? Personally, I'd argue for the latter.
Additionally, what bands or artists have made something old sound new again? And who has made you miss the earlier version by merely being imitative as opposed to inventive?
Pictured below: 20th Century singers and their 21st Century counterparts.