Your Signature Song. Yes, Yours.
Last night, I went to the U.S. Open to watch the first-round matches of Venus Williams and Andy Roddick. Williams took what felt like an eternity to trounce the young, 47th-ranked Russian player, Vera Dushevina. And, with the temperature dropping and me summer-clad -- after downing a bucket of seasoned waffle fries and a powdery, suspicious-tasting hot chocolate -- I gave up on seeing Roddick altogether. Yet the night was fun, and I was aware that I wouldn't be seeing champion tennis players if I were back in Portland. (But that didn't stop the Portland part of me from griping about the fact that Chase managed to get its logo on the actual net! I can't wait for the future, wherein a bank logo and a beer logo just cut to the chase and are the ones actually holding the racquets.)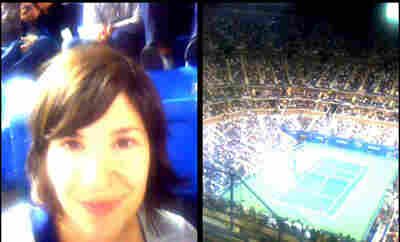 At one point, my sister, with whom I attended the event, noted that they would show us any celebrities in attendance on the JumboTron. Sure enough, halfway through the first set, "Uptown Girl" began playing on the loudspeakers and they cut to a shot of -- guess who?! -- that's right, Christie Brinkley! Brinkley smiled gamely and waved to the camera. Nowhere on her face was any evidence that 1) she was sick and tired of being an "uptown girl"; or 2) she didn't need to be reminded of her ex-husband, Billy Joel. In other words, if she hates the song, we were none the wiser.
I imagined the 25-year-old whose job it is to program the music at the U.S. Open scrambling about, quickly and deftly downloading "Uptown Girl" from iTunes with NASA-like precision and pride, using phrases like "I got it!" and "In 3, 2, 1... That's a go!" I mean, just think of the power that this person has. He could take one look at someone like Gwyneth Paltrow sitting in the stands and, based on some fan letter to which she never replied, decide that her song is "Queen Bitch" by David Bowie. What's Paltrow going to do? She'd be powerless. Smiling would be her only option.
The prospect of being able to play "name-the-celebrity-about-to-appear-on-the-JumboTron-based on-the-song-that's-playing" (catchy title, huh?) was very exciting. However, nothing else came of it. Wait for the semis and finals, I suppose.
What the "Uptown Girl" moment did inspire was a conversation about what song we would want played whenever we walked into a room. My sister then added this musical fantasy (one I don't have, but which she claims many people do have): What song would you want played when you go up to bat?
For walking into a room, I would want something without lyrics -- and something ridiculous, like Beethoven's 5th or Bach's "Jesu, The Joy of Man's Desiring." If the song had to have words, I'd go with "Play With Fire" by The Rolling Stones. And, for a sports fantasy, doesn't everyone just want John Fogerty's "Centerfield" playing? Okay, I guess there are a few people out there who want that "Oh Yeah" song by Yello.
So, what song would you want played when you walk into a room? And, for when you go to bat for your favorite team, what should they play over the loudspeakers to let everyone know that their hero has finally arrived?