Revisiting 1986: A Tribute To Michael Jackson's 'Captain EO'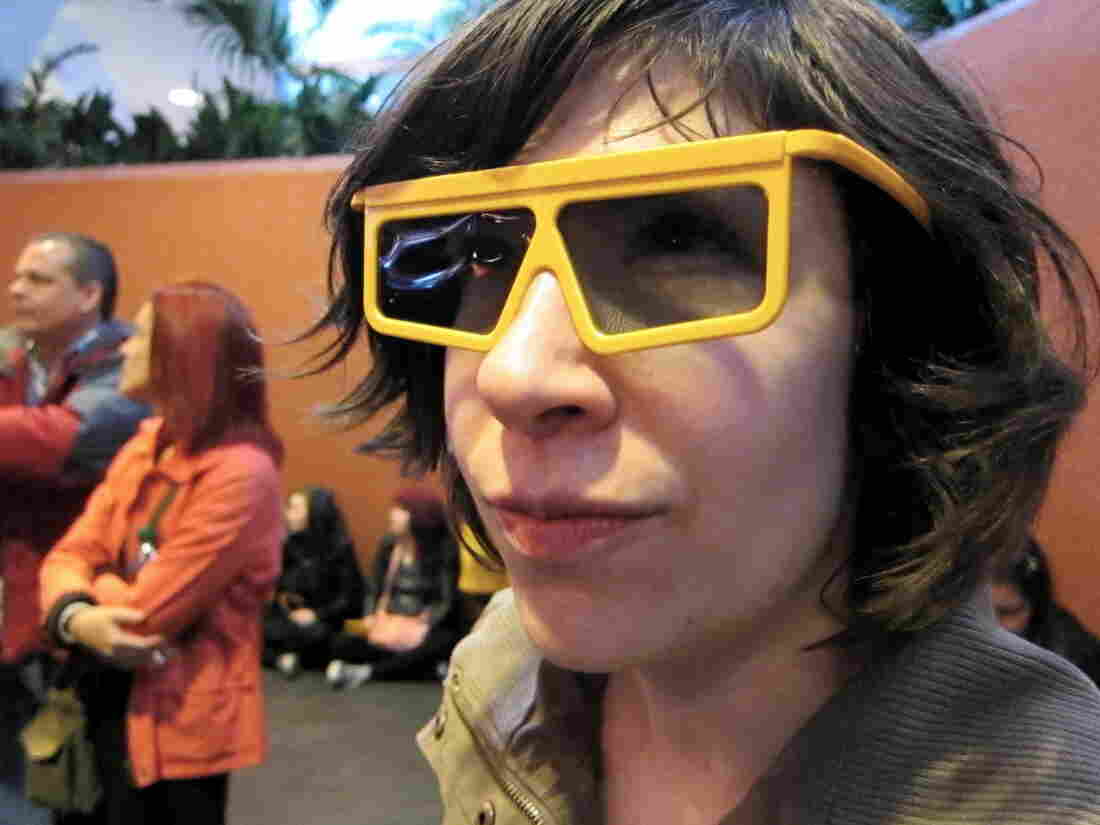 Yesterday, I celebrated Easter by going to Disneyland and witnessing the resurrection of Michael Jackson. Before you call me a heretic, let me add that there was a 7.2 magnitude earthquake that lasted an entire minute. Trust me: Something awesomely holy was afoot.
I hadn't seen Captain EO since 1987, the year after it premiered at Disneyland's Tomorrowland. I was in seventh grade, a pretty major Jackson fan, and a believer in the fact that those giant purple 3D glasses could both make me cooler and cover up my adolescent and volcanic pimples in a way Oxy-10 never had.

Me, in the 2010 yellow version of the glasses.
Captain EO was made by some major Hollywood players, including producer George Lucas and Francis Ford Coppola, who directed the project. The short film, made for a whopping $30 million, tells the story of Captain EO (Jackson), the leader of a happy yet bumbling crew. (There are conjoined twins who look like his-and-hers Alf, as well as what appears to be a flying Gremlin.) The team is traveling through space when its ship crashes into a planet so littered with metallic trash that it could be on an episode of Hoarders. The ruler of this waste-strewn planet, the Supreme Leader, attempts to thwart Captain EO and his team by setting her henchmen upon them. I'm not sure what she's trying to stop EO from doing, but that's not the point. The point, after all, is to set up a time when Michael Jackson can sing and dance and save the world. And he does! In 3D!
In my subsequent visits to Disneyland — like one in the mid-'90s, when the Magic Eye Theater was still showing the film — I skipped Captain EO entirely, opting for faster, more relevant thrills. A few years ago, on another trek to the park, Captain EO was gone entirely, a mere memory, a relic. (Disneyland stopped showing the film in April 1997.)
But in the wake of Michael Jackson's untimely death last year, Disneyland decided to reopen Captain EO as a tribute. I waited in a fairly long line to see it yesterday; the film was as much an attraction as Space Mountain or the Indiana Jones ride. The audience cheered when the film was introduced by a Disneyland employee, and then again when Jackson first appeared on screen.
What I didn't realize until I was sitting down is that Captain EO is actually in 4D. The seats shake and vibrate, lights flash through the theater, air blows into your face. (The air part is a little unnerving, considering that its onscreen source is a sneeze.) When the music and dancing begins — with the song "We Are Here to Change the World" — the seats do the rocking for you. I found this odd. Would we feel strange moving to our own rhythm? Do people not know what to do when they hear music? Was this to prevent an individual dance freak-out, a solo moonwalk through the aisles?
Later, during a shortened version of "Another Part of Me," while the seats were still, I tested out a little solo dance; making sure I could enjoy the music unaided by the ass robot, I moved my feet and twitched my shoulders. I can't exactly brag that I "still had it," but who cares? Michael Jackson still does.