If Everyone On 'I'm A Celebrity' Fell Headfirst Into A Landfill...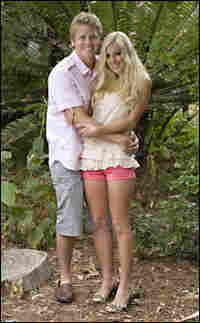 I regret to inform you that tonight is the premiere of NBC's summer series, I'm A Celebrity...Get Me Out Of Here!.
Of course, the trick to this show is that the title suggests that people are there involuntarily — perhaps they're on probation, or they're genuinely lost, or their relatives are being held for ransom, and only you can help them. Get them out of here!
The problem is that these people want on this kind of show fairly desperately. Patti Blagojevich doesn't actually want to be rescued. If she didn't want to be there, perhaps when her husband was told that he was legally prohibited from participating, she might have seen it as a sign and said, "Whew! Well, honey, at least that's over." Rather than, you know, rolling up her sleeping bag and packing her hair dryer.
But as happy as they all are to be here, this is a particularly distasteful group. Even to me, with my relatively high tolerance for nonsense, this is some high-octane nonsense.
Now, I never actually wish anyone harm, but as I came to grips with the fact that the arrival of this show was inevitable — it will air Monday through Thursday nights throughout the entire month of June — I began to entertain a purely frivolous fantasy in which all of these people were dropped headfirst into a large landfill. (And unharmed! Just smelly.) Almost involuntarily, I began to play a mental game called, "In What Order?"
So here's the order in which I decided I would drop them into the landfill.
1. Spencer Pratt. Spencer made his unwelcome invasion of popular culture by being the boyfriend of Heidi Montag, the official Useless Los Angeles Person of MTV's The Hills. It has become a cliché to complain about people who are famous for being famous; Spencer has pioneered a whole new kind of meta-complaining, in which we lament people who are famous just for the fact that we all hate the fact that they're famous. It's quite a logical thicket — leave a breadcrumb trail so you can get home.
In any event, both a coward and a bully, Spencer is probably the single person on the planet Earth I would most like to see under a pile of leftover lasagna and old shoes. I decided he would go into the landfill first, not only because he will be gone immediately, but because it means everyone else will land on top of him, hopefully at awkward angles.
2. Heidi Montag.. Heidi will not see much reason to go on once we're rid of Spencer. In fact, she probably won't know what to do. Five minutes after he's gone, she'll be trying to recapture their old routine by hugging a tree and pretending to be reading about herself and the tree inUs magazine while an imaginary cameraman from Us magazine takes a picture of her with the tree that will later be captioned, "Celebrities And Trees Are Just Like Us...They Read About Themselves!"
The rest of the cast, including a ubiquitous Baldwin, after the jump...
3. Stephen Baldwin. If you have any kind of weakness for reality shows, you are probably thinking, "Stephen Baldwin found something less dignified to do than Celebrity Apprentice?" Yes. Yes, he did.
Back in the day, Baldwin was actually in The Usual Suspects — a fact it's very easy to forget — but after that? It was Bio-Dome, and then he became Crazy Reality-Show Famous Person. He's been on Celebrity Mole, Celebrity Apprentice, and now I'm A Celebrity...Get Me Out Of Here!If they ever develop Celebrity Doing The Macarena With A Toilet Seat Around Your Neck, you can bet he will sign up.
(The best line in his Wikipedia entry: "Baldwin's spiritual journey started many years ago when his Brazilian housekeeper told him that it was prophesied to her, in Brazil, that she would lead her future American employer to Christ." And yes, there is a footnote.)
4. Janice Dickinson. Because she used to battle Tyra Banks as a judge on America's Next Top Model, Janice will always have a place in many viewers' hearts as the crazy that fought the crazier. That's a plus, but Janice has already been on The Surreal Life — which was basically this show without the jungle but with famous Apprentice nasty person Omarosa Manigault-Stallworth — which makes this kind of anticlimactic.
There's nothing to find out about how Janice will behave. She will behave exactly as she does all the time, because she already doesn't really hold back. If you met her, you get the sense that she might punch you or give you a wedgie or maybe even lick you, depending on first impressions.
5. Sanjaya Malakar. Not only was Sanjaya not on American Idol this season, he wasn't even on last season. He was on in 2007, which is millions of years ago in the relevance of stunt reality-show performers, who typically age with the speed and irreversibility of supermarket raspberries. To extend the metaphor, he is well covered with white fuzz by now, but apparently, someone still thinks you'll find him delicious.
6. Patti Blagojevich. I don't know what to say about this lady. It seems like she should have better and more important things to do, like baking cakes with files in them or something. But here she is, and in some ways, she's...a sympathetic figure? Maybe? In that at least she's fallen on hard times? It's terribly incongruous. Wait for the line, "There's a Senate seat in it for you if you help me stay on the show another week."
7. Torrie Wilson. According to the NBC materials, professional wrestler Wilson had her most high-profile wrestling storyline in 2003. So her big professional wrestling moment was six years ago. She is now a retired professional wrestler, which presumably means she kicks around the wrestlers' home with the rest of the old guard and exchanges piledriver stories for most of the day, and then she questions why the grandkids don't visit.
8. Frangela. Frangela is actually a comedy duo — if you've seen the commercials for He's Just Not That Into You where the two African-American women talk about how everyone eats ice cream after she gets dumped, I understand that to be Frangela. I don't actually have anything against them, because I don't know very much about them, but He's Just Not That Into You is a very bad movie.
9. John Salley. Former NBA player. Talk-show host. Vegan. I am not convinced that you are nutsy enough for this show, John Salley.
10. Lou Diamond Phillips. This, I do not get at all. Remember when he was a real actor? La Bamba, anyone? Stand And Deliver? The groundbreaking CBS werewolf series Wolf Lake?
Okay, maybe not the last one, but Lou Diamond Phillips is not like Spencer and Heidi. He seems like he's earned a peaceful retirement. Quite frankly, seeing him show up here makes you wonder whether he made some bad investments. May you land on top of the pile, Lou Diamond Phillips.