Early-Onset Schizophrenia Has Never Been More Adorable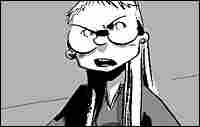 The second issue of I Kill Giants, a seven-issue mini-series written by Joe Kelly and illustrated by JM Ken Niimura, hits stores today.
Why I'm telling you this: Issue #1 off-handedly accomplished something that, I assert, comics can do better than any other form of entertainment: It set up an intriguing tension between its narrative content and its visual style, and it really lived inside that tension.
Erm. Let's see if I can put that another way, without waxing quite so grad-school insufferable.
More direct language, plus a sneak-peek page, after the jump ...
I Kill Giants is told from the point of view of fifth-grader Barbara Thorson, whose Myers-Briggs profile will seem awfully familiar to many a geek: touchy, kind of a loner, obsessed with books and myths.
As the story opens, she's attracting the unwanted attention of both the school psychologist and the school bully. On a not-unrelated note, she's taken to wearing bunny ears to class.
Plus there's the monster that lives upstairs. So, you know. Tough row to hoe, all around.
The tone is of the book is dark, and will likely only get darker as young Barbara's fantasy world of protection spells and elaborate giant-traps rubs up against some of the harder edges of reality. Or at least against the lunchroom.
But then there's the look of the book, which ....
Well, take a gander.
See? Were I pressed to characterize Niimura's stylized, manga-inflected technique, I'd probably start with "Cute as all bloody get-out."
Also: "Winning." Might even add, despite myself: "Awwwww."
And the conflict between the book's dread-infused tone and its cartoony, downright sunny art makes the act of actually reading the thing all the more disquieting, intriguing and memorable. You don't really know how Barbara's going to end up, and you're freshly reminded of that fact with every engrossing, defiantly dissonant panel.
Granted, not all comics spend much time playing in this particular corner of the sandbox. Formal innovation and experimentation are, um, not exactly hallmarks of the superhero genre, for example. Which is probably one big reason I Kill Giants scribe Joe Kelly, who's spent some time chronicling the exploits of Superman, the X-Men and the Justice League of America, decided he needed a little more breathing room.
It's early yet — six more issues to go. Plenty of time for the book to lean too hard into its quirks and collapse. But whether it does or it doesn't, I'm gonna be there to see what happens.