Sports Night: My Favorite Show Ever Comes To DVD (Again)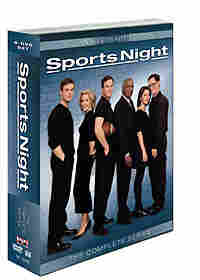 When you write a lot about television, everybody likes to ask: What's your favorite show ever?
I've given a few different answers over the years, but I think the actual answer is that my favorite show of all time is Sports Night. The show has been out on DVD for a few years -- but only in a bare-bones set.
So it's not unexciting to me that it's been re-released this week in an extras-packed collection marking the 10th anniversary of its debut on ABC, where it lasted only two seasons.
Sports Night was the first TV show from Aaron Sorkin, who had at the time made The American President and A Few Good Men -- and who would, the following season, introduce the Emmy-hogging The West Wing. (And, later, the embarrassing Studio 60 On The Sunset Strip, but ... bygones.)
A comedy with unexpected existential heft, it followed the production of a cable show (modeled on ESPN's SportsCenter) on a struggling cable sports network. We knew the anchors, the producer, the managing editor -- all passionately devoted to their show and to sports.
More gushing about my long-forgotten favorite, after the jump ...
When I try to explain why I loved this show, I tend to cite one of two things. One is this lovely zinger, taken from the show-within-a-show, when anchor Dan Rydell -- who hates soccer -- is giving the scores and highlights:
I know we promised you soccer highlights, so let me just tell you that Columbus beat Miami one-nothing, Dallas beat San Jose one-nothing, Chicago beat Colorado one-nothing, and New England beat Kansas City two-one in an offensive slugfest. A modest proposal: make the nets bigger.
The other is comes from the episode "The Apology," in which Dan is asked by his network to apologize for comments he made in a magazine profile. (He discussed his membership in a group that advocates legalizing marijuana; you can see the scene about midway through this clip.)
During a big meeting with the network guys, Dan argues to Isaac Jaffe, his adored boss (played by Robert Guillaume), that it's not always good to do what you're told, citing Rosa Parks as an example. Isaac tells Dan to do it anyway.
And then, when the network guys are gone and they're alone, Isaac gently points out to Dan, "No young rich white guy has ever gotten anywhere with me comparing himself to Rosa Parks. Got it?" And Dan knows instantly that he shouldn't have done it, and he feels like a jerk.
This ability to allow the show's best and smartest characters to be totally, embarrassingly wrong in certain situations was really what distinguished the writing. Often, when characters are "flawed," they're fake-flawed, not really flawed. They're temperamental -- but only for noble reasons. They're stubborn -- but only because they're right.
Sports Night was marvelous in its ability to show people -- reconizably smart, loving people -- making real mistakes that created the kinds of real conflicts that real people encounter in real relationships and workplaces.
Two other notes: First, Sorkin created, about two-thirds of the way through the first season, one of the most crushingly complicated personal storylines I can ever remember seeing anywhere on television, not just in the context of half-hour comedy. The entire run of the show would be worth it simply to experience the episode "Sally," which will knock the wind right out of you.
Second, the evolution of the television comedy from the way it looked in 1998 to the way it looks today is right here, in this one show. You know how all the shows used to have laugh tracks, and now the good ones, with one or two notable exceptions, don't? In the early episodes of Sports Night, the laugh track is intrusive and obnoxious, but it was gradually phased out over the course of the first season, and by the time the second season hits, it's essentially gone.
ABC's insistence on the laugh track -- and the way Sorkin and his co-conspirators got rid of it -- are parts of a story that returns over and over again in the boatload of features that are included with the new 10th-anniversary set. Watching the interviews with cast members like Peter Krause (who went on to Six Feet Under) and Felicity Huffman (who went on to Desperate Housewives, among other things), as well as with Sorkin, makes the entire thing seem like it was, for the most part, simply way ahead of its time.
There's a good-sized heap of episode commentaries with Sorkin, his go-to director Thomas Schlamme (who also worked on The West Wing and Studio 60), and most of the cast.
And there are delightful gag reels, lengthy interviews, and a feature comparing Sports Night to the real SportsCenter.
All of which means this new box is a terrific set even if you already love this show. But it's also a great investment if you feel like there's nothing good on, and you could really use a perplexing comedy-drama that will bring you a fine bunch of actors, a writer at the top of his game, and a rich supply of dialogue you can steal for the rest of your life.