Baggin' On the Sea King, or: The Comedy Meme that Ate Atlantis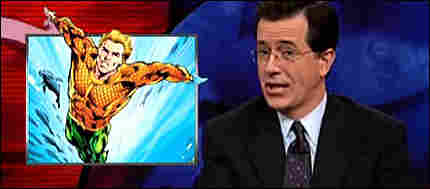 Aquaman. King of the Seven Seas. Swift and Powerful Monarch of the Ocean.
Dude can't catch a break.
In the popular mindset, he's become a quite literal joke, and a tired one.
And so to all those cut-ups, wags and wacky funsters who have helped to spread the now pervasive "Aquaman is Lame" meme, I say this:
Enough. Basta. Move on.
Credit where it's due, though: Thanks to you, said meme itself — the very act of pointing out that the highly specific nature of Aquaman's power-set would logically circumscribe his effectiveness as a deterrent of crime and administrator of justice (i.e., "The guy talks to FISH!") — is now officially the hoariest, hackiest arrow in the quiver of pop-culture commentary.