Ten Can't-Do Dresses From The SAG Awards Red Carpet
I like to look at pretty dresses. How luscious is the color of that dress on Kate Winslet? But the older and grumpier I become, the more difficult it gets for me to just look at a dress without thinking about logistics. What about walking? What about breathing? What about sitting in an auditorium seat for a couple of hours?
Not all these things are concerns for the people in attendance at the major festive celebrations of Hollywood, but they are concerns to me.
This is the lens through which I see beautiful dresses on celebrities now; I analyze what you can't do in that dress.
Can't Go To Best Buy Without Being Stopped By Security And Accused Of Smuggling Out A Nintendo Wii: Angelina Jolie
Can't Get Anyone To Pay Attention To Your Very Pretty Face: Emily Blunt
Can't Find A Competent Train-Wrangler: Claire Danes
The rest of the list, after the jump...
Can't Sit Down Without People Behind You Accusing You Of Sitting On Telephone Book To Seem Taller: Teri Hatcher
Can't Find A Comfortable Place For Your Left Hand: Amy Adams
Can't Move Your Arms For Fear Of FCC Violations: Emile Hirsch's Unidentified Date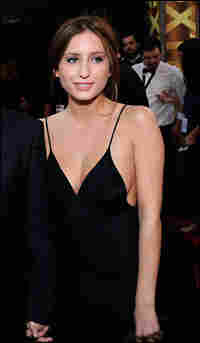 Can't Get People To Stop Pushing Your Dress Back Up On Your Shoulder, No Matter How Many Times You Say, "It's Supposed To Be Like That": Christina Applegate
Can't Turn Around At The After-Party Without Knocking The Hors D'Oeuvres Off The Table: Holly Hunter
Can't Even Pretend To Care About Awards Enough To Put On An Uncomfortable Dress Anymore, But Thanks For The Award Anyway: Meryl Streep
Can't Maintain Personal Space And Get People To Behave Appropriately: The Screen Actors Guild Award Statuette