A Very Strange Discussion Of Viola Davis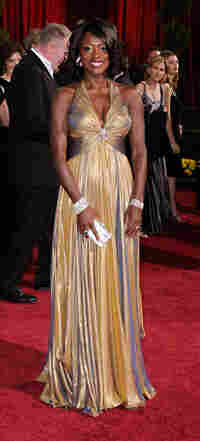 One of the little rituals I tend to indulge in after the Oscars is the E! Fashion Police special. It used to be Joan and Melissa Rivers, of course, but they're long gone — this year's special was handled by Debbie Matenopoulos, Project Runway champ Christian Siriano, America's Next Top Model stylist Jay Manuel, and stylist Peter Ishkahns.
This year, the four went through a pretty predictable discussion of Sarah Jessica Parker and Miley Cyrus and so forth, until they arrived at Best Supporting Actress nominee Viola Davis. Davis' gold gown, by Reem Acra, generally got very good reviews — the Times Online called it one of the best dresses of the evening, the Fug Girls loved it, the Chicago Sun-Times praised it, and so forth.
Not so the E! panel.
What went down, and why it went down uncomfortably, after the jump...
Here's the discussion that took place about Davis:
Matenopoulos: Moving on to Viola Davis in Reem Acra...I'm a big fan of Reem Acra. I heard her say on the carpet if anyone says anything bad about her and her dress, she will cut them...I have nothing good to say, so I'm just going to keep my mouth shut and perhaps she can cut you, then, Jay.
Manuel: She's not going to cut me, because...the fit of this dress is absolutely stunning. And you know what, Viola? You look stunning. However, everyone is not really looking at the dress and all the diamonds you've got on. We're just seeing, you know, the cha-chas are there.
Ishkahns: I'm a big fan of hers, she looked fantastic at the Globes...
Manuel: Did you just say you liked her Globes?
Ishkahns: Yeah, I liked her Globes. But, you know, this is a little bit too Motown for me. This would have been good at the Grammys.
I never, never watch an E! Fashion Police show with any degree of seriousness whatsoever, but I found this discussion strangely uncomfortable. The mere fact that it stood out at all, in the last environment in which I'd ever expect to find anything substantive enough to offend me, is the real surprise. And yet.
First of all, the notion that Davis' cleavage is any more prominent than anyone else's is completely absurd. They had nothing but breathless praise for Angelina Jolie's dress, which was at least as revealing. Sarah Jessica Parker's dress showed substantially more of her chest than Davis's, and nothing was said about that.
As for the gold, there's nothing strange about metallic fabrics on the red carpet. Remember Jennifer Lopez at the Golden Globes, which we talked about last week? But Viola Davis tries it — in a beautifully made dress that fits her like a dream — and she finds herself declared "too Motown."
Too Motown? Is he listening to himself?
Good at the Grammys? Does anyone remember how people dressed for the Grammys? Or is that just where people who are "too Motown" feel more at home?
The entire discussion coalesced around a basic argument that Davis' dress was too vulgar for the Oscars. And I could not help wishing we could do an experiment where you put the same dress on ten different actresses, because somehow I suspect that on Heidi Klum, that dress would not have been called "too Motown," nor would it have been suggested for the much less formal Grammys, nor would a word have been said about how body-conscious it was or wasn't.