Unearthing A 'New' Short Story By Walker Percy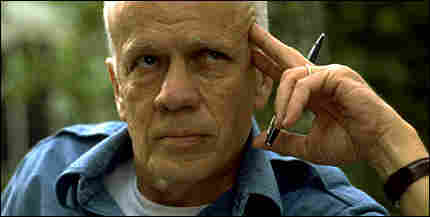 Being a fan of the late Walker Percy, I was intrigued when my friend Logan Browning, a lecturer at Rice University, discovered "A Detective Story." It's a Percy short story that apparently has never seen the light of day. Until now.
It's being published in the April 2009 issue of The Hopkins Review, a literary quarterly produced by Johns Hopkins University Press.
For those who have never heard of Percy: He was a bourbon-smooth blend of Southern novelist, keen-eyed semiotician and worldly existentialist. He published a half-dozen exquisite novels - and several volumes of essays — about the unsettlingness of being human. He was heavily influenced by the writings of Fyodor Dostoevsky and Soren Kierkegaard. He died in 1990, at age 73.
For those who have heard of Percy: "A Detective Story" is a breezy tale of William Pinckney, a Mississippi businessman who goes out for a pack of cigarettes and never comes home. The yarn is narrated by Jamie Rodgers, a long-time friend of Pinckney's. At the request of Pinckney's wife, and to appease his own curiosity, Rodgers sets out on a quest - to Memphis, Atlanta and other places — to find the vanished man.
The pleasures and perils of posthumous discoveries, and how this one was made, after the jump...
No one is sure when Percy wrote this short story, but the echoes — or perhaps pre-echoes — of John Updike's 1960 gem Rabbit Run are crisp and clear. When I ask Logan about the similarities, he says, "I don't think Percy spent a lot of time with Updike."
But Logan does think that Percy may have written the piece in the late 1950s before he wrote his first novel, The Moviegoer, which won the National Book Award in 1962. "The style seems very very early to me," Logan says, "from a younger, less experienced Percy."
Maybe there was just something in the circa-1960 American air that made people want to flee for their lives, by fleeing from their lives.
Sometimes there are reasons that writings by famous authors go unpublished. Posthumous works often lack the life (sorry) of works that appear while an author is alive. Ernest Hemingway's The Garden of Eden comes to mind.
Other times, real masterpieces appear after the author has gone on to the hereafter. Jane Austen's Northanger Abbey and Persuasion were both published after her death. Most of Emily Dickinson's poetry was unveiled post-departure. A more recent example is Robert Bolano, the Chilean writer critics are raving about. Bolano died in 2003, but his second major novel, 2666, was published posthumously and only recently translated into English. In November, 2008, Time proclaimed it "a masterpiece, the electrifying literary event of the year."
(Maybe you know of other posthumously published works that enhanced, or detracted from, a writer's canon; feel free to mention them in the comments.)
Most times, however, finding a forgotten short story or an unfinished novel by a dead writer can be a little like stumbling on the long-lost basement tapes of a musician - fascinating to fans and scholars, but not game-changing when it comes to posterity.
So it is with "A Detective Story." As usual, Percy writes well of bars and old hotels and souls that are lost — literally and figuratively. It's finely crafted and fascinatingly told, but not zeitgeist-shattering.
The original 27-page onionskin typescript was stored with other Percy papers in the Southern Historical Collection at the University of North Carolina-Chapel Hill, explains Logan. He's also editor of SEL: Studies in English Literature 1500-1900, a quarterly published by Rice University.
Appropriately, the little mystery tale, Logan says, was tucked away among Percy's handwritten notes — about the fiction, and philosophy, of Dostoevsky.