Faster Than a Speeding Bullwhip: Superman Creator's Kinktastic Art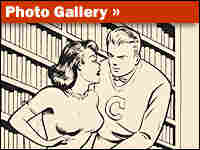 We've previously noted that the creators of some of America's most noble comic book characters got up to some decidedly ignoble stuff themselves. And yet the artist Joe Shuster, co-creator of Superman, is a special case.
I don't refer here to his 1940 arrest in a Miami hotel lobby for "loitering hatless," although God knows that any man who'd indulge in acts of flagrant public hatlessness merits close watching. There's the children to think of.
No, what makes Shuster's case special — and the subject of a new book by comics historian Craig Yoe — is the newly-discovered fact that 16 years after Superman's first appearance, when faced with dire financial straits, Joe Shuster turned his artistic talents has to, well, smut. Dirty, depraved, utterly hatless smut.