Culturetopia: Must-Listen Arts & Entertainment (Puzzle Edition) : Monkey See On this week's Culturetopia: J.J. Abrams, Angels And Demons, selling your CDs for cash, and a brief cry of despair about headless women. No, really.
Culturetopia: Must-Listen Arts & Entertainment (Puzzle Edition)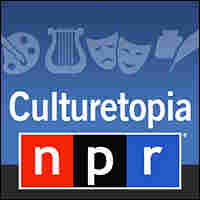 We take a turn towards the cryptic in Culturetopia this week.
(If you haven't been paying rapt attention, that's the newish podcast featuring NPR's best arts and culture stories that Linda and I host every week.)
If you're not a podcast-subscribing type, you can listen right here.
From the twisty mind of J.J. Abrams springs such tenebrous television as Lost and Fringe, as well as the fabulous new Star Trek movie. You'll hear some cuts from his appearance on Talk Of The Nation about his affection for brainteasers and how consideration of genre plays into his oeuvre.
You'll hear a hilarious review of this week's number one hit film, Angels and Demons, from our critic Bob Mondello. (No, Virginia, there is no such thing as a Harvard symbologist.) You can find the Tom Hanks Daily Show clip we talked about here.
We've got a great piece from San Francisco about the surprisingly robust economics of the used CD trade. I'm just glad those things aren't ending up in landfills.
Finally, you'll meet a little lady who's headless, three inches tall and 35,000 years old. She's the newly discovered First Lady of Found Art -- possibly the oldest representation of a female figure ever found. It's always nice to have a science desk reporter doing a cultural piece, and Chris Joyce -- who not long ago did a bang-up profile of Indiana Jones -- was the perfect person to file this report.