Jonathan Groff Talks 'Spring Awakening' And 'Taking Woodstock'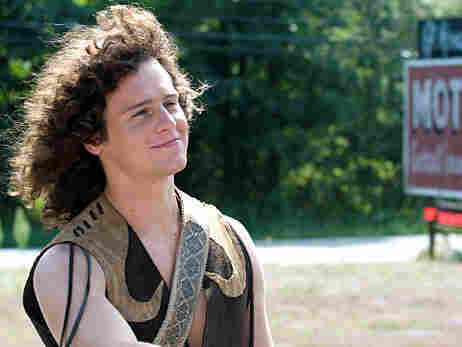 by Michael Portantiere
Twenty-four-and-a-half-year-old Jonathan Groff has already made two major splashes in his acting career: he was the "radical," sexually aggressive, 19th-century German schoolboy Melchior Gabor in the Broadway musical Spring Awakening, then he morphed into the persona of Vietnam-era draft bait Claude Hooper Bukowski for last summer's Public Theater revival of Hair at the Delacorte Theater in Central Park.
Groff opted out of Hair for its Broadway run, but his fans now have the chance to see their guy onstage and/or on the big screen, as Dionysus in The Bacchae at the Delacorte and as concert promoter Michael Lang in Ang Lee's new film, Taking Woodstock. We recently chatted on the phone, and I asked him to complete some sentences.
"If I could time travel back to1969 for the Woodstock music festival and could see only one artist or band in performance, it would be..."
"I can't pick just one! I'd like to see Richie Havens, Janis Joplin, and my new favorite artist, Arlo Guthrie. I guess I could still see him, because he's still performing. And, of course, I'd like to be there for 'The Star-Spangled Banner' by Jimi Hendrix on that final day."
"The greatest thing about working with Ang Lee is..."
"...you're working with a master and a true artist, so you know the experience is going to be really special. Ang gives you a lot of homework to do. He's very meticulous, which was exciting for me. You feel totally safe with him because you trust him so implicitly."
On-stage nudity, pining for Jennifer Garner, and more, after the jump...
"The best thing about attending a premiere of a movie that you're in is..."
"...all you have to do is sit back, watch the movie, eat popcorn, and then go to a party. Taking Woodstock is my first movie, and the premiere was a little strange for me because I'm used to openings of shows, where I actually have to get up and perform."
"The major difference between acting on stage and in a film or TV show is..."
"...in theater, the acting muscle is all about endurance, conserving energy, knowing when to give your all and when to hold back so you can make it through an eight-performance week; but film is all about being 100-percent intense in the moment. Stage acting is like a long-distance run, film acting is like a sprint."
"I love to do shows at the Delacorte Theatre because..."
"...the audience waits in line all day for tickets, so it's an audience unlike any other. Everyone is really hungry to see the show — no one is there because they were dragged by a partner or a friend — so it's like a rock concert. Also, the unpredictable element of the weather makes every performance really exciting."
"The Broadway musical I'd most like to see made into a movie is..."
"...Spring Awakening."
"The scariest thing about simulating sex onstage in front of hundreds of people is..."
"...the flap that opens at the front of your boxers."
"The best show I've seen on or Off-Broadway lately is..."
"...Les Ephemeres in the Lincoln Center Festival. That was great. And I saw Waiting for Godot [with Nathan Lane and Bill Irwin] about a month before it closed. That was unbelievable."
"The best movie I've seen lately is..."
"There's a couple. I loved Star Trek and Up. Did you ever see Dancer in the Dark? I rented that. It was devastating."
"My favorite song from Hair is..."
"You are asking me really hard questions. [pauses to think] 'Walking in Space.'"
"My favorite film actor of all time is..."
"Arggh! [pauses to think] At this moment, I'm going to say Kate Winslet. She can do anything, and I never get sick of watching her. I think she's a brilliant actress."
"The famous person I'd love to be best buds with is..."
"[pauses to think]...Barack Obama."
"The famous person I have a major crush on but have never met is..."
"Oh, that's easy: Jennifer Garner. She was doing Cyrano on Broadway while we were doing Spring Awakening, and I was hoping she would come and see our show. I've never met her, but I'd love to. I've seen every episode of Alias several times."
"My idea of hell on earth is..."
"...my life without music."
"My idea of heaven on earth is..."
"The first thing that comes to mind is human connection — being able to share an experience with someone, admiring someone, being in love with someone. I think that's heaven on earth."