Tom DeLay Does The Tango, And Other Great Moments In Political Pop Culture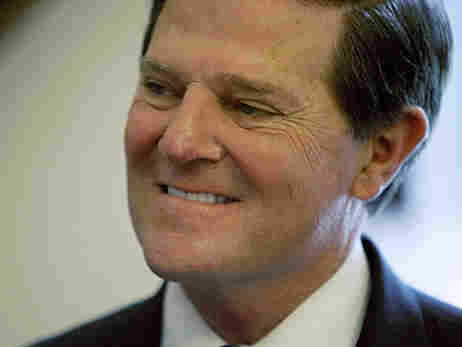 Until now, the answer to the question, "What do Melissa Joan Hart of Sabrina The Teenage Witch and former House Majority Leader Tom DeLay have in common?" was probably "Not much." But now, they are both set to appear on the upcoming season of Dancing With The Stars.
The potential for this to be highly bizarre is not to be underestimated. Do not think only of DeLay doing the regular tango, which I like to think of as the dirty dancing of the very sophisticated. Think of him doing the tango to "Beat It" or the Star Wars theme — because in seasons past this show has set tangos to both.
Or perhaps he'd like to try the Lindy Hop dressed in gym shorts?
You get the idea. If DeLay sticks around, this could turn into a fairly spectacular spectacle. (And he's throwing himself into it, too, if his Web site is any indication.)
Still, DeLay is hardly the first politician (or former politician) to dabble in pop culture — not by a long shot. Let's take a look back at some other "classics."
Arsenio, Nixon, Tip, and other single-namers, after the jump...
Bill Clinton, The Arsenio Hall Show
It's so common to see politicians on Saturday Night Live now, doing things far sillier than playing the saxophone, that it's hard to remember that it seemed like kind of a big deal when Bill Clinton, during his 1992 campaign for president, showed up in sunglasses to play the saxophone on The Arsenio Hall Show. The possibility that this would suggest a lack of gravity was treated as quite real back then. Now, of course, Sarah Palin can raise the roof in a rap about herself.
Tip O'Neill, American Express
The fact that former House Speaker Tip O'Neill appeared in a print ad for American Express is less surprising than the fact that in it, he was pictured at the beach under a big umbrella. O'Neill also wound up in a Miller Lite ad with Bob Uecker and an episode of Silver Spoons, making him a more visible pop-culture figure than you might recall.
Bob Dole, Viagra (and Murphy Brown and some other things...)
Yes, Bob Dole got a lot of attention for making a Viagra ad. But he was excellent on a Murphy Brown episode called "All The Life That's Fit To Print," in which he appeared in a sequence in which Murphy dreamed about her enemies badmouthing her to the person writing her biography. Dole looked serenely into the camera and told a story about Murphy allegedly eating his sherbet at a party while he was busy dancing with Liddy. He insists that while she denied doing it, he busted her based on her orange tongue. This episode also featured other politicians, including Orrin Hatch and Alan Simpson, but Dole was by far the funniest.
Nancy Reagan, Diff'rent Strokes
Okay, Nancy Reagan was the First Lady and not an elected office-holder at the time she appeared on Diff'rent Strokes to reassure Arnold about the importance of speaking out against drugs. But it still counts.
Granted, this was more heartfelt and less goofy than the other entries in this list. But it's nonetheless a beautiful example of the Very Special Episode of the 1980s: the moment when the hopelessly earnest met "Whatchoo talkin' about, Willis?" If you imagined that this fall, Michelle Obama went on Two And A Half Men to deliver an earnest speech about the importance of home gardening, you'd be approximating the effect of Nancy Reagan comforting Gary Coleman about Just Saying No.
Al Gore, 30 Rock
As part of the special week of NBC programming devoted to environmental issues, 30 Rock devoted an episode to the creation of Greenzo, a eco-friendly mascot (played by David Schwimmer) who becomes a megalomaniac. The best part of the episode comes when Al Gore appears briefly, only to disappear on the fantastic line, "A whale is in trouble! I have to go!"
Richard Nixon, Laugh-In
The granddaddy. In September 1968, Richard Nixon, then running for president, appeared on Rowan And Martin's Laugh-In to speak the show's catchphrase, "Sock it to me." Or rather, as he said it, "Sock it to ME?" It's not the funniest thing you'll ever see a candidate do, but it may well be the most famous.
Or it will be until Tom DeLay does the jive like Cloris Leachman.