Fey, Fox, Timberlake, 'Pushing Daisies,' And 'Dr. Horrible' Win Early Emmys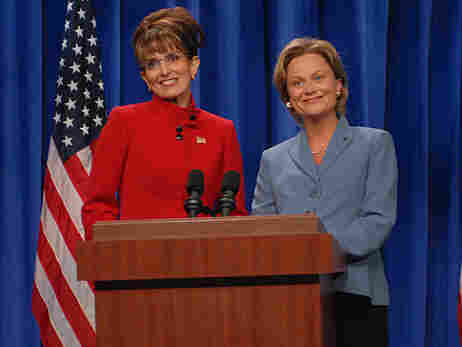 The standard prime-time Emmy telecast isn't until next weekend, but tonight they handed out the Creative Arts Awards, which cover everything they choose not to include in the big show. That includes lots of very important but little-recognized production categories as well as guest actors, reality programs (not reality-competition, mind you, which are separate), children's programming, and more.
The most famous winners of the night are undoubtedly Tina Fey and Justin Timberlake, who took home Outstanding Guest Actor and Outstanding Guest Actress In A Comedy, both for their performances in last season's Saturday Night Live. (She did an impression you might have heard a little bit about; he continued his well-regarded record of hosting.)
Ellen Burstyn won Outstanding Guest Actress In A Drama for her work on Law & Order: SVU, while Michael J. Fox was Outstanding Guest Actor In A Drama for his appearances on Rescue Me. (That's Fox's fifth win in eleven nominations over almost 25 years.)
But some of the other interesting news was a little lower in profile.
Victories for an already-canceled show, after the jump...
The now-canceled Pushing Daisies, the fans of which continue to mourn it bitterly, beat out Mad Men for several major "look of the show" categories on the drama side. Beat it for Art Direction, beat it for Makeup, and beat it for Costumes (though Mad Men did grab Hairstyling). It will be cold comfort to devoted Daisies-ites, but the Emmys were at least capable of recognizing the extraordinarily inventive work the show was doing during its final season.
Intervention won for Outstanding Reality Program, defeating Mythbusters, much to my personal, controlled-explosion-loving dismay. In my favorite "strange bedfellows" category, American Masters beat out shows including Anthony Bourdain's No Reservations and Deadliest Catch for Outstanding Nonfiction Program.
Four comedians — Kathy Griffin, Ricky Gervais, Chris Rock, and Will Ferrell — saw their one-person specials lose the award for Outstanding Variety, Music Or Comedy Special to The Kennedy Center Honors, meaning that the people honoring the people who perform beat all the people actually performing.
If you're into television that never actually airs on television, you'll be glad to know that the massively popular Dr. Horrible's Sing-Along Blog won an Outstanding Special Class award, which I understand to be Joss Whedon's first Emmy win, though that seems awfully hard to believe. (He was nominated once while writing Buffy The Vampire Slayer.)
We'll talk plenty more about the Emmys this week, and you can see a complete list of the Creative Arts Awards here (winners are marked with the statuette).