Rod Blagojevich Visits Jon Stewart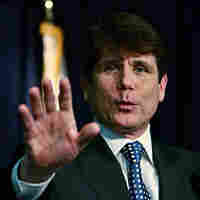 On last night's The Daily Show, Rod Blagojevich sat down to talk to Jon Stewart about the charges against him, the incriminating tapes made of his conversations, and more. Blagojevich's basic argument is that he did attempt to trade President Barack Obama's Senate seat for something, but he was trying to trade it for public policy victories for the people of his state. Stewart had a little bit of trouble with this claim.
After the jump: the video.