'Saturday Night Live' Tops Off A Dismal Season Premiere With A Little Swearing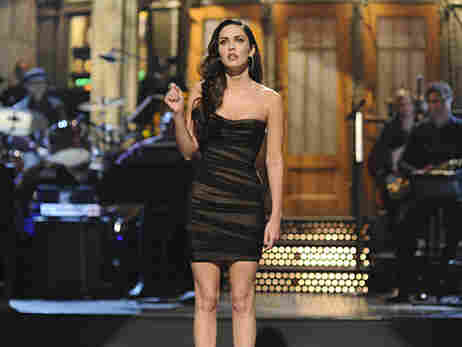 Unevenness is such a staple of Saturday Night Live — and, in fact, always has been, even during the good years — that it can't possibly be considered news that last night's season premiere had long stretches where the material was painfully unfunny.
But on last night's show, hosted by actress Megan Fox, there was hardly anything that was funny, and what was unfunny was extra-unfunny.
And as if that weren't enough, one of the new cast members accidentally dropped one of George Carlin's seven dirty words.
Anatomy of a disaster, after the jump...
The biggest headline will be that slip-up from new featured player Jenny Slate (who, remember, was brought in as part of the switching out of female cast members we recently discussed). She was participating in a dumb sketch called "Biker Chick Chat," in which the main joke was that all the leather-clad women on it said "frickin'" several times per sentence.
In other words, on her first night of live television in her new job, Slate was asked to go out and barely not swear, over and over and over again. This is what you might call "tempting fate," and they paid the price when Slate clearly and unequivocally said, instead of "frickin'," the other thing. And then, she made a horrified, pained, miserable face, puffing out her cheeks as if perhaps the word was still in her mouth and if she created a tight seal, it wouldn't actually go out live to millions of people.
Too late.
It will be Slate getting most of the blame for the train-wreck nature of the season premiere, and it's certainly a mistake they didn't need in light of the FCC's increasingly strict position on "fleeting expletives" (though the fact that it was after 10 p.m. apparently means they wouldn't level a fine for the profanity), but in fairness to Slate, it was disastrous long before that.
To begin with, if Megan Fox has any flair for comedy, no one discovered it. They used her a lot, not taking the road they sometimes have of burying a bad host. But nothing worked — especially not her baffling monologue, in which she came on stage, played dumb about a couple of obviously Photoshopped pictures of her head on other bodies, and shuffled back off.
Most of the sketches relied heavily on Kristen Wiig, who is consistently asked to carry lengthy pieces on the strength of a couple of tics. She had some good ideas for an overly calm flight attendant — the particular way she kept saying "Okay?" and the way she offered to go get pretzels were trademark Wiig moments — but they were lost to weak writing.
The opening bit was made up entirely of Fred Armisen's sendup of Moammar Gadhafi's speech to the U.N., which also suffered from anemic writing and remarkable overlength. A sketch about mail-order brides was a combination of two of the show's most treasured and least funny standards: ugly Russian women and men in drag.
"Weekend Update" was decent, as always, featuring another appearance by Wiig as travel agent Judy "Just Kidding" Grimes. It's a bit that's wearing out its welcome, but particularly for people who've never seen it, it's an impressive tour-de-force. It delighted the audience, which can't be said for much else of what went on. A couple of isolated lines here and there worked in the rest of the episode, but particularly in light of the fact that they had all summer to have funny ideas, it was painfully bad, on balance. Three performances by musical guest U2 at least interrupted the bad comedy, but they couldn't save an hour and a half of television.
Saturday Night Live tends to defy efforts to say whether it's changing in quality or not. It gets bad, then better, then bad again, then great. It's a cliche to say it's not good anymore, and it's a cliche to say you're tired of people claiming it's not good anymore. Long trends are hard to identify; it's best measured in small increments: episode-to-episode and sketch-to-sketch.
And measured as an episode, it's the worst season opener I can remember.
(Hat-tip to Vulture for pointing out the FCC's 10 p.m. profanity cut-off.)