How To Write A Celebrity Memoir: Craig Ferguson's Slam Dunk 'American On Purpose'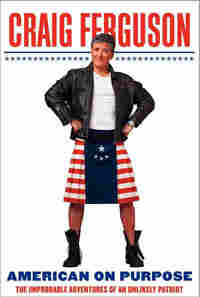 Craig Ferguson is probably the least polarizing guy in late-night. He's not as cranky as Letterman, as under-the-gun as Conan, as unlikely as Jimmy Fallon, or as irreverent as Jimmy Kimmel.
He doesn't make a lot of headlines; he's just there, after Letterman, being funny. And now, he's written a very, very good memoir called American On Purpose. (The title comes from his decision to become a citizen, which he did last year.)
The great majority of the book is about Ferguson's life before he was famous: growing up in Scotland, getting into trouble, casting about for what to do, playing in bands (his discussion of punk alone is worth buying the book), getting divorced a couple of times, and — oh, yes — doing a lot of drugs and a whole lot of drinking prior to getting sober in 1992.
Avoiding the obvious pitfalls, after the jump.
If there's anything more potentially tiresome than a celebrity memoir, it's a celebrity memoir about addiction. It's very, very hard not to make your life as an addict sound a little bit glamorous. And it's equally difficult, it seems, not to spend a lot of time describing the wonders of rehab, the learning process, the shakes, the pains, and so forth, all of which people have heard about by now and stand little chance of understanding if they haven't experienced it anyway.
It is telling that Ferguson's entire description of rehab takes about a paragraph. He doesn't really care to tell you everything he learned about himself, except that he had to stop drinking or die. The point isn't to analyze the act of not drinking; the point is that because he stopped drinking, he got to have a life, and he'd rather discuss that.
So it's not really a book about addiction; it's a book full of reflections and confessions and ruminations on how and why certain things happened the way they did and how a Scottish kid who got beat up a lot wound up as the host of an American late-night talk show. And there's perhaps no greater example of the book's tone than the way Ferguson talks about the women he's been involved with, including two from whom he's divorced. He has barely an unkind word to say about anyone with whom he's ever been in a relationship; he portrays them with warmth and gratitude, sometimes blaming himself and sometimes blaming no one at all for the way things happened. It's not a book about blame and credit as much as it is an explanation of an unusual life.
Much of it is just wonderful diversions into everything he's done — here's part of that wonderful discussion of his younger days in punk bands:
They were literally garage bands, and they had the trademark of all fledgling rock outfits, the one kid crowbarred into the group despite playing a hopelessly inappropriate instrument (flute/oboe/accordion) because his father had a car and was willing to ferry our instruments to practice. You have never heard "Anarchy In The U.K." butchered until you hear it with a clarinet solo.
Ferguson has a special talent for underscoring the fortuitousness of events in his life; how, for no particular reason, something happened one way or another way and changed everything. The most well-publicized example is a time when he was on his way out of his apartment to go commit suicide, shortly before he got sober, when a friend stopped him to hang out (and, actually, to have a drink). He got sidetracked and the plan to kill himself, which was pretty far along in its development, never went off. He clearly has this in mind later when he talks about the death of comedian Peter Cook, who reached out to Ferguson for help with heavy drinking shortly before his own death. While Ferguson tried to help, he gently illuminates both sides of that "you never know" quality — what was done for him helped him; what he tried to do for Cook didn't work out.
It's a very graceful memoir, if I can put it that way: it's very generous toward just about everyone, and Ferguson relishes talking about how people he met in one situation returned in another; how he still works with people he met along the way.
Don't get me wrong: it's also very, very funny (the guy is a comedian, after all). It has the marvelously authentic quality of something you can tell he, as a famous person, nevertheless actually wrote himself (he's written a novel and some screenplays as well), because there simply isn't any way anyone else could imitate his storytelling voice or the affectionately acidic way he remembers teachers and classmates and kids who beat him up.
American On Purpose explains a lot about the up-and-down, unpredictable path of a show business career: one day you're a bum, and the next day you're a star, and then you're a bum again. You have a disastrous audition attempting a Latino accent for Suddenly Susan, and it leads you straight to The Drew Carey Show, where you stay for eight years. You're the longshot for what once was Craig Kilborn's job at CBS's Late Late Show, and then you get it anyway.
There are so very many reasons to like Ferguson that pop up in the book: His adoration of Betty White (with whom he worked on a failed sitcom), whom he only half-jokingly believes he might have married if they'd been closer in age; his faith in the idea of comedy; his love of both Scotland and the United States; and the way he comes off as a guy who truly, honestly likes women — not "loves the ladies," but really likes women. (And on his show last night, he even revealed that he loves Mythbusters. I knew I could trust that guy.)
It's not an interesting book because Craig Ferguson is famous; it's an interesting book because Craig Ferguson is a very, very smart guy who has developed a highly sophisticated perspective on the details of his own life. That it's a life in show business rather than, say, a life as a cab driver isn't really the point. The point is that a really good writer who has done interesting things is always worth listening to, and the fact that he's a late-night talk-show host doesn't make it a showbiz book. It's a real book, and it's a good book, too.