Ten Speculative Reasons Justin Timberlake Might Be Wearing This NPR T-Shirt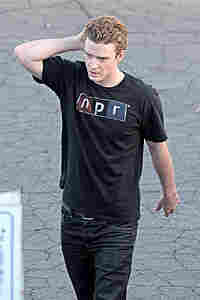 Some people were all aflutter over the new hairstyle that Justin Timberlake is sporting in this photo — those blond curls are a little different for him, you see, because he's playing one of the founders of Facebook in a movie. To some people, the hair is big news.
To us, the big news was obvious: NPR SHIRT!
We suppose he could be in character, although it is almost as wacky to think that Justin Timberlake is playing a movie character in a front-and-center NPR shirt as it is to think that he just thinks on a personal level that it's an awesome shirt (as we do). We're going with "One of us! One of us!"
At a moment like this, the mind naturally wanders, flight-of-fancy-style, to the many reasons Justin Timberlake might love NPR enough to sport the logo.
1. Desperately hoping to be invited for Tiny Desk Concert where he can show off surprisingly powerful pennywhistle rendition of "Greensleeves."
2. Loves commenting at NPR.org; is secretly the guy who goes around the site writing, "I DON'T WANT TO READ ABOUT BRITNEY SPEARS!!!!"
3. Angling for leverage in his quest for a name change to "All Sexy Things Considered."
4. Stole it directly off Peter Sagal's back during the New York City marathon in thus-far-unpublicized ambush.
5. Slightly confused; thinks it says "N*SYNC."
6. During breaks in The Social Network, is appearing in the long-awaited biopic, Inskeep.
7. Just borrowing it from Lady Gaga.
8. Back of shirt says, in masking tape, "DID NOT PUT ME ON THE LIST OF 50 MOST IMPORTANT RECORDINGS OF THE DECADE. SEND PROTESTS TO BOB BOILEN."
9. Never purchases a new fedora without consulting Planet Money for possible updates on hat futures.
10. Has always wanted Carl Kasell's voice on his home answering machine.