James Mitchell: Evil Patrician, Dream Dancer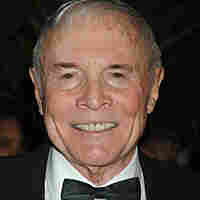 James Mitchell, who passed away Friday at 89, occupies two spots in my memory.
First, he played Palmer Cortlandt on All My Children from my childhood until earlier this month. My very first memories of seeing soaps, I think, are from when his story was new — his daughter Nina wound up in a star-crossed romance with Dr. Cliff Warner that culminated in one of those splashy soap weddings that doesn't happen as often as it once did. (You can see Mitchell in that clip grudgingly — oh, so grudgingly! — giving Nina away.)
Every soap needs that guy: the father who controls and schemes, but out of love (sort of), and with good intentions (kind of), so that when someone really and truly evil comes on the scene, you can be glad he's around (mostly). Mitchell had it down pat. He had elegance, he had a certain carriage, and even when Palmer did things like paying a nurse to seduce his daughter's boyfriend, he was more delicious than distasteful. He got shot, he was sterile and then he wasn't, he hooked up with Tad Martin's goofy mother ... the guy knew how to live.
But my other recollection of him comes from watching the 1955 movie version of Oklahoma! with my mother — probably 25 years after it was made — and having her say, "That's Palmer Cortlandt, you know." And so it was. You can see him, beginning at about the 2:55 mark here, in the dream/nightmare ballet of Laurey's dreams and fears.
Mitchell had been a Broadway dancer and done some other film and television before ultimately winding up in soaps, where his seven-times-married character went on, and on, and on, until Mitchell's health began to deteriorate in recent years. According to the AP, his partner, Albert Wolsky, says he "loved playing mean." I believe it.