Culturetopia: Must-Listen Arts & Entertainment (South Side Edition) : Monkey See In today's roundup of arts and entertainment stories, we hear about Mahalia Jackson, Mario Van Peebles, and postmodern fiction.
Culturetopia: Must-Listen Arts & Entertainment (South Side Edition)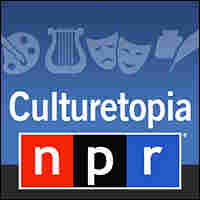 Arts Podcast time! This week on Culturetopia, one of NPR's rising stars, Sonari Glinton, co-hosts to talk about his great entry in our great series, 50 Great Voices. Sonari profiled Mahalia Jackson, who was born in New Orleans but called Chicago's South Side home for much of her life. One of his interviewees called the civil rights icon's voice "traffic-stopping." That's fair. Maybe "mind-blowing," too.
An in an interview with Don DeLillo, Steve Inskeep quizzes the revered postmodernist about writing fiction that's been addressing the relentless flood of media stimulation at least since the days of his 1985 masterpiece ,em>White Noise. DeLillo says these days, we breathe the conflict between reality and virtual reality through our pores.
We also have a meditation on music from actor and filmmaker Mario Van Peebles. He was on ,em>Tell Me More to chat about his new documentary Fair Game and the idea of a "post-racial" America, but we've got some intriguing audio of Van Peebles reflecting on the music he's listening to right now. It relates, in some surprising ways, to the dynamics between fathers and sons. (Van Peebles' father is, of course, the legendary independent filmmaker Melvin Van Peebles.)
Another kind of film-on-a-budget comes from England, where a critically-acclaimed television series about the Yorkshire Ripper has just gotten a theatrical release here. Red Riding is based on a novel by David Peace; it's been likened to The Wire and focuses not just on the serial killer's crimes but on police incompetence and corruption.
And finally, a piece about a new TV documentary focused on the classic dance-party program Soul Train offers some pretty good music, and is well worth a listen. (Seriously, it kills.)
You can listen below, or subscribe to the podcast.