How To Help Get Craig Ferguson A Robot Sidekick Built By Grant Imahara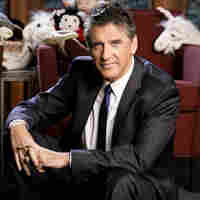 For me, finding out that there is a lovefest between Craig Ferguson and the Mythbusters (of Discovery's show of the same name) -- the Mythbusters feed was the first one Ferguson followed when he joined Twitter a few weeks back -- was kind of like finding out that your favorite restaurant is in love with your favorite pair of shoes.
Now, they have upped the ante.
Ferguson refers to his Twitter followers, you should know first, as his "robot skeleton army." When Grant Imahara -- you remember Grant, who told me that delightful, disgusting story about the ear wax candle -- found out that Ferguson wanted a robot sidekick, he offered to build one, if Ferguson could help him get to 100,000 Twitter followers.
Ferguson gave the command, telling his followers, "Urgent! I need you to follow @grantimahara. For 100K followers he'll build a roboskeleton sidekick. Advance my rattly cyborgs!"
By a few hours later, Grant was wondering whether he should have asked for 200,000. He also asked Discovery, "What's the official policy on giving late-night hosts flame-throwing robots? Um, just asking."
As of this writing, Grant has 97,297 followers. Here's what I'm saying: The Mythbusters are going to build Craig Ferguson a robot sidekick. The only thing better than this would be ... I don't even know what. Maybe finding out that Betty White and Jane Lynch were going on the road in a two-woman show where all they do is say mean, moderately profane things about people I don't like.
If you want to be a part of it, just follow Grant. That robot sidekick will be, in a way, partly yours.