Tonight's Television: The Return Of Alien-Human War, And More 'Idol'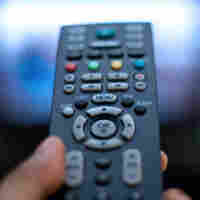 I feel like I should have something to say about how exciting it is that American Idol (8:00 p.m., FOX) is down to its top ten, but frankly, there's not a lot to feel excited about, even compared to an average season of American Idol. In particular, the fact that they are spreading ten performances over a two-hour show means that you will see someone give a very short performance an average of once every 12 minutes. That is a lot of filler.
On the other hand, this is the night Dancing With The Stars (8:00 p.m., ABC) finally gets rid of someone. Go, Kate Gosselin! Really, go!
Lost (9:00 p.m., ABC) is on. Of course, it might not be on. We might be in a parallel universe in which it's on, but there's also one where it isn't on, and Manimal is now in its 27th season. You don't know for sure.
Jason Ritter (very much his dad John's kid in some ways, but an actor I've always enjoyed in his own right on shows like Joan Of Arcadia) shows up on Parenthood (10:00 p.m., NBC). I am in favor of this development, I think.
And finally, ABC brings back V (10:00 p.m.) with new episodes. Human-alien war! Woooo!