Culturetopia: Must-Listen Arts & Entertainment (Jazz Guitar Edition) : Monkey See In today's Culturetopia: We listen to a whole bunch of music. No, really. A whole bunch.
Culturetopia: Must-Listen Arts & Entertainment (Jazz Guitar Edition)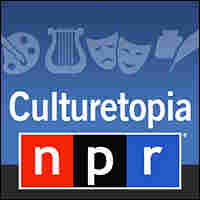 by Mike Katzif
On this week's roundup of NPR's best arts and culture stories, we invited Tom Cole and Felix Contreras to guest host. Tom is an arts editor and jazz guitar aficionado, and Felix is our resident expert in all things jazz and Latin music, so naturally we decided to focus heavily on music.
We start with the iconoclast guitarist Pat Metheny. Metheny's latest endeavor is his Orchestrion Project, a one-man-band of automated instruments that he triggers through his guitar and electronics.
And speaking of guitars, we turn to an interview with David Russell, the acclaimed and prolific classical guitarist who recently performed both in our own studios and at an inspired Tiny Desk Concert.
We then hear a piece that looks at the burgeoning world of online music and movies and how some movie collectors are refusing to adapt. And while Hollywood experiments with web distribution, some movies are now being released simultaneously in theaters and streaming online. One of those movies recently, was No One Knows About Persian Cats, a film that is not about cats, but about musicians in Iran.
And finally, Felix recounts a recent trip to the Library of Congress to see and hear their latest archival acquisition, the music and works of jazz saxophonist Dexter Gordon.
As always, you can subscribe to the podcast here, or listen below.