Tonight's Television: Inspiration On 'Idol,' Madonna On 'Glee,' And More 'Lost'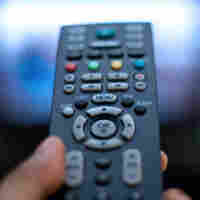 American Idol (8:00 p.m., Fox) does "inspirational songs." The jokes really do write themselves, not that I don't also greedily write them myself. At least it's only an hour.
Tonight's installment of ESPN's 30 For 30 (8:00 p.m.) series is about the birth of fantasy baseball (what was then "rotisserie baseball).
You've probably been hearing about the Madonna episode of Glee (9:00 p.m., Fox) for what feels like several decades, and it's finally here. FINALLY.
But you've also probably been hearing a lot about the last handful of Lost (9:00 p.m., ABC) episodes, another of which airs tonight.
Justified (10:00 p.m., FX) continues tonight, starring the always delightful Timothy Olyphant. It's up against a new Parenthood (NBC), where things are probably far less likely to be resolved with guns.