Tonight's Television: Lots Of New Comedy! Also, Another Housewife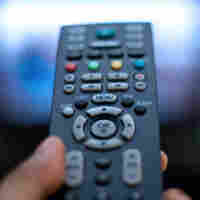 Brennan and Booth are headed off to rock and roll fantasy camp on tonight's Bones (8:00 p.m., Fox). The idea is rock and roll fantasy camp makes me want to cry, but the idea of their investigating it sounds promising.
NBC is back to normal tonight with new episodes of Community (8:00 p.m.), Parks & Recreation (8:30 p.m.), The Office (9:00 p.m.) and 30 Rock (9:30 p.m.), all in a row. Huzzah!
Survivor (8:00 p.m., CBS) keeps promising in the episode descriptions that something exciting is going to happen, and reportedly something exciting did happen last week, but since it benefited Parvati, I am afraid I cannot personally consider it "exciting." You might, though.
Grey's Anatomy (9:00 p.m., ABC) has been off the air for a few weeks; tonight, they return with an episode revolving around the birth of Mark's grandchild, along with what sounds like a horror right out of Deadliest Catch. The word "hook" is involved. (Shudder.)
Yet another woman arrives on The Real Housewives Of New York City (Bravo, 10:00 p.m.). There's a joke here about lipstick on a pig, but I would inevitably be misunderstood.