Tonight's Television: More 'Dress,' And Did We Mention 'Party Down' Returns?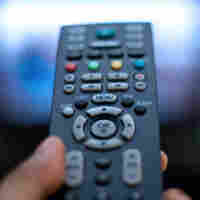 Well, it's Friday night. And you know what that means. There's usually nothing whatsoever on television.
As we've already mentioned, though, tonight is the exception, because Party Down (10:00 p.m., Starz) returns for its second season. They're also premiering Gravity (10:30 p.m.) right after it, but honestly, when I saw this show presented in a panel discussion in January, it was such an intense turn-off that I paid little attention to it, and reviews from my trusted critical ... er, peeps suggest that I am not missing anything.
Other than that, the pickings really are incredibly slim, though if we slide backwards to 9:00 p.m., we do find the fifth-season premiere of TLC's Say Yes To The Dress, the bridal-shopping show that I secretly very much love, not in spite of the fact that the brides make me feel comparatively frugal and in control of my senses, but because of it.
If you've been watching Jamie Oliver's Food Revolution (9:00 p.m.) on ABC, you'll find the season finale running tonight.
Looking ahead to the weekend, on Saturday, the second episode of BBC America's new Doctor Who (9:00 p.m.) is on the schedule, as is the SyFy original movie Mothman (9:00 p.m.), which I can only assume is in the same general category as the previously mentioned original movie Megapiranha.
Saturday night, though, also brings HBO's movie You Don't Know Jack (9:00 p.m.), in which Al Pacino plays Jack Kevorkian. The movie also stars Susan Sarandon, John Goodman, and Brenda Vaccaro.
Oh, and at 11:30 p.m. on NBC, you will find Gabby Sidibe hosting Saturday Night Live, where I expect her to burn out the lights with her greatness.
Sunday is packed, actually: Discovery premieres its new show Into The Universe With Stephen Hawking (8:00 p.m.), History premieres its new show America: The Story Of Us (9:00 p.m.), and someone gets fired from The Celebrity Apprentice (9:00 p.m., NBC)! Okay, maybe not that last one.