Tonight's Television: Hatless 'Justified,' And More Of The End Of 'Lost'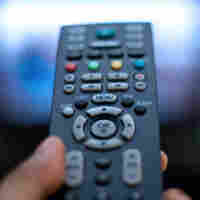 ESPN's 30 For 30 (8:00 p.m.) debuts Ice Cube's film "Straight Outta L.A.," about the Raiders' move from Oakland to L.A. Should be a doozy. A real doozy.
We're down to four people on American Idol (8:00 p.m., Fox), and that means a very long delay between performances. Slower than molasses, this show. And that's before you consider the quality of the Seacrest-Cowell banter. Hiyo!
On Glee (9:00 p.m., Fox), Rachel has a sore throat, Kurt has issues with his dad, and everybody has singing and dancing!
We're getting serious about the end of Lost (9:00 p.m., ABC), people. Only a handful of hours left. Many questions yet to be answered. Many characters yet to be explained. Many fans yet to become as angry as they are inevitably going to be, no matter what happens.
BBC America kicks off Ashes To Ashes (10:00 p.m.), the sequel to Life On Mars, tonight.
The fact that there's an episode of Justified (10:00 p.m., FX) called "Hatless" seems delightfully intriguing and terribly, terribly wrong at the same time. I mean ... HATLESS?
As mentioned previously, Sharon Jones will be a guest tonight on IFC's Dinner With The Band (10:30 p.m.). Make that "NPR Music Favorite Sharon Jones."