Tonight's Television: Rob Lowe, CW Finales, And Bette Midler On 'Ref'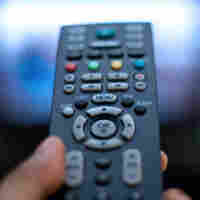 Community (8:00 p.m.), Parks & Recreation (8:30 p.m.), The Office (9:00 p.m.), and 30 Rock (9:30 p.m.) all have new episodes tonight on NBC. The biggest news? Rob Lowe and Adam Scott (of Party Down) make their debuts on Parks & Recreation. Lowe is a surprisingly affable goofball, and Scott is a very sad loss for Party Down (he'll be continuing on Parks & Rec next season) — they could both be good additions.
Survivor (8:00 p.m., CBS) is in its last stages before the Sunday night finale. Everything I've seen in a couple of recent episodes makes me feel better about skipping most of the season, but that's not necessarily a popular opinion; it's been a pretty well-received run, all things considered.
Vampire Diaries (8:00 p.m.) and Supernatural (9:00 p.m.) both have their season finales tonight. We'll have more finales next week, but the CW shows are squeezing in ahead of the curve.
Fringe (9:00 p.m., Fox) is also getting a jump on the end with the first half of its two-part season finale. More Leonard Nimoy!
Demi Lovato guest stars on tonight's episode of Grey's Anatomy (9:00 p.m.). But more to the point, so does Marion Ross.
Even knowing that Bette Midler is one of the panelists doesn't convince me that I'm actually going to sit down and watch The Marriage Ref (10:00 p.m., NBC) but that's probably as close as you're going to get.