Tonight's Television And The Weekend: Dennis Quaid Is Bill Clinton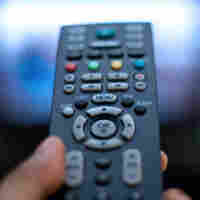 It's homecoming on Friday Night Lights (8:00 p.m., NBC), and the description promises some time spent with Tim Riggins and Matt Saracen. Hooray!
It's very unlikely that you were watching Past Life (8:00 p.m., Fox) during its abbreviated regular-season run, but if you were, it's returning to burn off what's left.
And, of course, to make the same recommendation I make on every other Friday: Party Down on Starz at 10:00 p.m.
Saturday night brings The Special Relationship (9:00 p.m.), an HBO movie starring Dennis Quaid as Bill Clinton and — once again — Michael Sheen as Tony Blair.
We're in a slow period for what's often a pretty good TV night — Sundays, that is — but this Sunday does bring a new episode of Breaking Bad (10:00 p.m., AMC). And if you feel commemorative, Sunday night also brings the National Memorial Day Concert (8:00 p.m.) on PBS, which will feature a lineup including Brad Paisley, Lionel Richie, and lots of military bands and choruses.