Watch As Conan O'Brien Does What Needs Doing On '60 Minutes'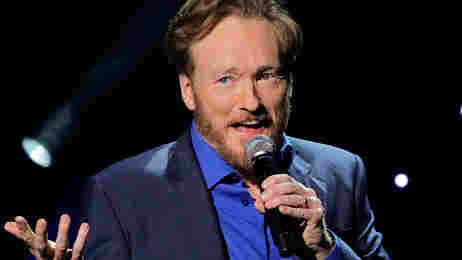 The contractual blackout on Conan O'Brien's mug appearing on television expired Saturday -- and Sunday brought him to 60 Minutes, where he sat down with Steve Kroft to continue his rather remarkable lemons-to-lemonade story.
For a guy who lost The Tonight Show not even a year after he got it, O'Brien has come out remarkably rose-scented. It's an unscientific estimate, but he got probably 75 percent of the public sympathy as he and Jay Leno were tossed around by the network, and he ultimately went out on a high note after Leno was restored to the 11:30 slot he'd publicly surrendered, claiming (in comments Leno later admitted were consciously dishonest, even at the time) that he'd voluntarily retire when Conan took over.
O'Brien is currently on a live tour, where he's being greeted like Captain Sully landing on the Hudson, and in the fall, he'll be a highly paid host again, working on TBS under far less pressure than The Tonight Show ever placed on his shoulders.
A surprising number of people still see Conan as a sort of folk hero, even after NBC paid him more than $32 million to get lost. If you can get $32 million for not working and still be perceived as the little plugger who got hosed by the man, you are doing something very, very right.
And what O'Brien is doing right, he kept right on doing on 60 Minutes.
He didn't deny that there was grief involved in the end of a project he'd been excited about. He was very open -- as was his wife -- about the fact that he had trouble getting over it after the bottom dropped out. But he also defended the decision to give The Tonight Show back to Leno as a totally understandable business decision on the part of the network. O'Brien agreed with Kroft that what makes the most sense is that Leno's contract reportedly had a much larger payout provision than his -- meaning that once the 10 p.m. talk-show experiment bombed, and NBC was compelled to yank it before the end of Leno's contract, not giving Leno back the 11:30 slot would have meant paying Leno a massive sum -- so they paid O'Brien off instead.
Where he bristles, he says, is at the post hoc justifications. Various NBC folks have claimed, among other things, that O'Brien's Tonight Show was losing money -- O'Brien looked with what seemed to be "read between the lines of what I am saying" intensity at Kroft and insisted this was "not possible" -- and that O'Brien had been rejected by viewers, which he insists is unfair.
Watch the video. Also: Ratings, the rejection of self-pity, and the cynical idea that not being cynical is sort of in a fella's best interests, after the jump.
Indeed, while Leno is outperforming O'Brien in total viewers, he's not doing any better than O'Brien did with the 18-49 audience -- which has to include most of the people NBC could ever realistically have expected Conan O'Brien to bring to the table. One interpretation of that data is that the Leno viewers who could reasonably have been expected to embrace O'Brien actually liked him just fine, and/or that the NBC losses at 11:30 weren't entirely about O'Brien at all.
The 60 Minutes interview wasn't very juicy, owing in part to O'Brien's non-disparagement agreement with NBC, which limits the degree to which he can fully air his id about his old bosses. But he insisted to Kroft that the tone of the interview would have been the same, for the most part, whether he was or wasn't restricted by contract.
About Leno, he had only had a few things to say. Most notably, he said that in Leno's position, he wouldn't have taken the show back such a short time after handing it over with purported public well wishes. He said he would have gone somewhere else, found another job -- he wouldn't have taken back what he just publicly vowed to graciously transfer to someone else. (Someone who, O'Brien chose not to mention, may not have realized that said gracious transfer was a lie even when it was undertaken.) O'Brien also said he hasn't heard from Leno at all -- or from NBC president Jeff Zucker.
He did bust out laughing, with obvious genuineness, when he was reminded that unlike Conan O'Brien, Jay Leno still insists that he (Leno) "got screwed" by the network. O'Brien added, with relish, "He's got The Tonight Show; I have a beard and an inflatable bat, and I'm touring city to city. Who can say who won and who lost?"
In fact, the closest O'Brien came to disparaging anyone was probably the question he said he couldn't answer: whether Leno "acted honorably" during the entire fiasco.
His low-key performance on 60 Minutes shouldn't really be a surprise. O'Brien has played this situation masterfully from the beginning -- from the first public words he said about the entire thing, which were, as you may recall, "People Of Earth," uttered when he first rejected NBC's disingenuous offer to move to 12:05.
(O'Brien demurred when asked whether he thought NBC was trying to get rid of him the whole time, but said it has occurred to him, and if that's what they were doing, it worked pretty well.)
Most importantly, for all the barbs he unloaded on NBC during the closing weeks of his show, O'Brien has never really seemed to see himself as a victim worthy of pity -- he went so far as to specifically eschew cynicism in his final show, saying, "Nobody in life gets exactly what they thought they were going to get. But if you work really hard and you're kind, amazing things will happen. I'm telling you, amazing things will happen."
Conan O'Brien's official position is that he is no victim. He just doesn't want us, the public, to reinterpret what was essentially a financial decision -- about who was more expensive to get rid of -- as a miserable failure for his show, which he feels (and his wife feels) never had the network's full support to begin with.
He has, ever since he lost that job, been funny on Twitter, gotten around a ban on being on television by greeting his public in person (which they love even more), and defied expectations by jumping to cable instead of making a same-old same-old deal with a broadcast network.
He sings funny songs about being fired, he jokes about his unemployment beard, and he insists that he did not get screwed: "It just didn't work out," he says.
It would, ironically, be cynical to see his rejection of cynicism and self-pity as a public-relations gambit. But if it were one, he could hardly have hoped it would go any better than it's going right now.