Culturetopia: Must-Listen Arts & Entertainment (Cautionary Tale Edition) : Monkey See In this week's Culturetopia: a book about sharing your name, a record label that's off the beaten path, and a fresh approach from a best-selling novelist.
Culturetopia: Must-Listen Arts & Entertainment (Cautionary Tale Edition)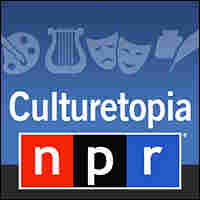 Your podcast of NPR's best arts and culture stories starts this week with a trenchant analysis of Conan O'Brien's first major interview after that little kerfuffle with NBC earlier this year by Monkey See's very own Linda Holmes.
And speaking of payouts, hubris and cautionary tales, Enron: The Musical just opened on Broadway. Although a hit in England, producers are wary about how U.S. audiences might receive the tuneful stylings of such characters as Andrew Fastow and Jeffrey Skilling. In an interview with Catherine Keener, Her Huskiness dishes on both her liberal-guilt-themed new movie, Please Give, and the rambunctious comedy The 40 Year Old Virgin.
Uber-bestselling novelist Danielle Steel discusses Big Girl, her latest romance novel that features an overweight young woman. Steele's characters often struggle with issues like divorce and suicide, but this particular topic is brand new for the author of over eighty books.
Wes Moore has only written one book, but it's a doozy. Moore is an Oxford-educated Army veteran and rising business world star. His book, The Other Wes Moore: One Name And Two Fates, is about a low-level street criminal who shares his name. The book's gotten rave reviews for its searching, subtle insights — Publisher's Weekly called it "a moving exploration of roads not taken."
Finally, we visit the boutique record label of rocker Jack White, of the White Stripes. He says it's part of an ongoing project of 'tricking people into buying music."
You can subscribe to the podcast here or listen below.