Tonight's Television: 'Community' Action And A 'Gun-Wielding Clown'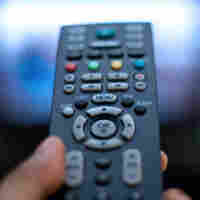 The big news tonight, if you happen to be me (which I acknowledge you are not), is the lead hour of NBC comedy. Community (8:00 p.m.) has an episode called "Modern Warfare" that's a sendup of every action-movie cliche you've ever seen, while Parks & Recreation (8:30 p.m.) was written by Amy Poehler, and features retired basketball player Detlef Schrempf.
Last week's Survivor (8:00 p.m., CBS) saw the end of one of my least favorite players and her oft-blurred hind quarters — can this week see the end of another?
It's been a rough season for The Office (9:00 p.m., NBC) in some respects, but tonight puts Dwight back in the role of investigator, and that's often a setup that pays at least some dividends. And on 30 Rock, a Mother's Day episode brings back Elaine Stritch, along with Jan Hooks, Patti LuPone, and others. That can't be bad.
On tonight's The Marriage Ref (10:00 p.m., NBC), you can take advice on your marriage from, among others, Gwyneth Paltrow, whose ridiculously self-indulgent self-help site Goop is among the Internet's favorite punching bags. Suffice it to say that when she says "Day after day, it stares up at you, challenging you in ways you never thought possible," she is talking about the need to make lunch for yourself. I AM COMPLETELY DEAD SERIOUS.
Tonight on The Mentalist (10:00 p.m., CBS), courtesy of our love of out-of-context episode description snippets: "Gun-wielding clown."