Tonight's Television: 'Friday Night Lights' Returns To NBC At Last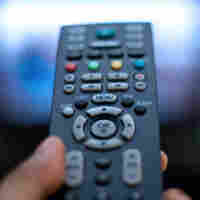 The marvelous Friday Night Lights (8:00 p.m.) brings its fourth season to NBC tonight. There have been uneven moments over the life of the show, but the cast remains one of the best ensembles in television, and the end of last season, showing Coach Taylor headed off to East Dillon, presented tremendous new possibilities.
ABC runs these specials called Primetime: What Would You Do? (9:00 p.m.), and I have to admit, I find them completely fascinating. Like a serious version of Candid Camera, they record what happens when people are confronted with ethical (or sometimes etiquette) dilemmas. Tonight's is serious: What would you do if you saw an obviously highly intoxicated woman being taken advantage of in a bar?
It sounds like Gordon Ramsay will be shutting down the kitchen again on tonight's Kitchen Nightmares (9:00 p.m., Fox).
Looking ahead to Saturday, I think we know what the story is. The story is Saturday Night Live (11:29 p.m., NBC), with host Betty White and musical guest Jay-Z. Come on. You know you want to.
Sunday night brings the season finale of CBS's The Amazing Race (8:00 p.m.). Will it be the cowboys? The sort of whiny brothers? That girl who made the speech about "the Iraq" and how some people don't even have maps — and her boyfriend? Tune in and find out.
Fans of Tom Selleck's work in CBS's series of Jesse Stone TV movies will note that he appears in another one on Sunday night at 9:00. It's called Jesse Stone: No Remorse. None. Not the slightest bit of remorse. That's what Jesse Stone has.
But if none of that appeals, there's always The Pacific (9:00 p.m., HBO), Treme (10:00 p.m., HBO), and Breaking Bad (10:00 p.m., AMC).