Tonight's Television: 'Idol,' 'Glee,' And A New 'Lost' To Puzzle Over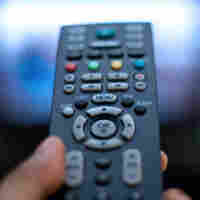 American Idol (8:00 p.m., Fox) is down to its final five. I don't know about you, but my entire interest in this season boils down to (1) watching Crystal Bowersox; and (2) waiting to see who wins the pool I participate in — where the final determining factor may come down to who lasts the longest out of Mike Lynche (in which case my buddy Mark wins), wee Aaron Kelly (in which case Stephen Thompson wins), or Casey James (in which case I win). Come on, Casey James!
As previously mentioned, Glee (9:00 p.m., Fox) features a guest appearance by the enduring Olivia Newton-John.
Meanwhile, Lost (9:00 p.m., ABC) is back with a new episode, as its creators begin the process of having the last six years of their blood, sweat and tears reduced by large swaths of the Internet to "I could have done that better."
Considering that Justified (10:00 p.m., FX) was recently renewed for a second season, it's a perfect time to start checking it out. The last five episodes are available at Hulu — that's everything but the pilot. There's still time.
I gave up on V somewhere around the time ABC decided to put it on hiatus for months, but it's back, and tonight, the battle undoubtedly continues. Please note that it starts at the highly annoying time of 10:02 p.m., because Lost runs until the highly annoying time of 10:02 p.m. Please stop this, ABC. You are by far the worst offender.