Tonight's Television: Judy Greer, Robots, Wrestlers, And Christopher Lloyd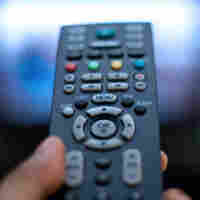 Tonight's intriguing Chuck (8:00 p.m., NBC) guest star: Christopher Lloyd. He's playing a CIA psychiatrist, and I see only good things coming from this.
Meanwhile, on How I Met Your Mother (8:00 p.m., CBS), the title is "Robots Vs. Wrestlers," and the guest stars include Peter Bogdanovich, Arianna Huffington, and Will Shortz. I don't know how that all comes together into one episode, but I'm looking forward to finding out.
After spending a few weeks at a more manageable 90 minutes, Dancing With The Stars (8:00 p.m., ABC) ramps back up to two entire hours as each couple has to dance twice. What will they do without Pamela Anderson?
I don't know why, but every Monday when I make up these listings, I am overwhelmed by the urge to yell, "Donald J. Trump's Faaaaaabulous World Of Golf!" Which is a real show, airing on the Golf Channel at 9:00 p.m., but that's no excuse.
Judy Greer comes to The Big Bang Theory (9:30 p.m., CBS) tonight, playing a physicist. Now I ask you: what is better than Judy Greer meeting up with Sheldon? Nothing, I tell you. Nothing.
The 10:00 p.m. slot offers you a choice between — as always — Nurse Jackie and The United States Of Tara on Showtime, and The Real Housewives Of New Jersey on Bravo. Just remember: you have to live with yourself.