Tonight's TV (And The Weekend): 'Friday Night Lights,' And Fireworks Aplenty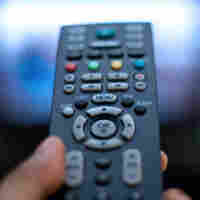 You know, it's a good thing IFC is bringing Freaks And Geeks back, because boy oh boy, are we looking at a lot of tumbleweeds this evening.
A new Friday Night Lights (8:00 p.m., NBC) has Coach Taylor working on a park and Becky working on the fallout from a complicated decision.
Um ... Say Yes To The Dress (9:00 p.m., TLC)? Wedding dresses? Nice salespeople? I actually like this show, but I can't really tell you you're going to see anything different from what the words Say Yes To The Dress imply.
There's always The Soup (10:00 p.m., E!), of course, and that will be funny. And at 11:00, as we have discussed, you'll be watching Freaks And Geeks on IFC.
Saturday night on the Hallmark Channel: Dolly Celebrates 25 Years Of Dollywood (8:00 p.m.). Ah, yeah, that's the stuff.
You know, sometimes your mind writes its own jokes, as it did when I looked at Saturday night's listings and thought, "Wait, The Forgotten (9:00 p.m. and 10:00 p.m., ABC) ... which one was that again?" Didn't even do it on purpose!
Of course, Sunday is the Fourth Of July, and if you're in that sort of mood, you can always watch A Capitol Fourth on PBS, or the NBC special Macy's Fourth Of July Fireworks Spectacular (9:00 p.m.), or the Boston Pops Fireworks Spectacular (10:00 p.m., CBS).
Or the 100th episode of Bridezillas (10:00 p.m., WE).