Tonight's TV: When Cupcakes Go To War, Does There Come A Killing Frosting?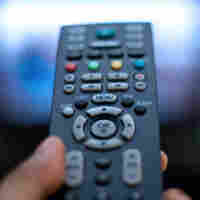 In what is always the most painful reality-show faceoff of any week, Hell's Kitchen (8:00 p.m., Fox) is on opposite Wipeout (8:00 p.m., ABC). HOW DO THEY EXPECT US TO MAKE THESE PAINFUL CHOICES?
If you're not into either of those, you can contribute to the continuation of the Biggest Loser brand by watching the season finale of Losing It With Jillian (8:00 p.m., NBC), starring the show's trainer, Jillian Michaels. Spoiler alert: Be prepared to be yelled at very motivationally.
Do you like cupcakes? Do you like war? Then you will love Cupcake Wars (9:00 p.m., Food Network).
SyFy's Warehouse 13 and USA's White Collar are helping hold down the fort for scripted drama at 9:00 p.m. USA keeps it up with Covert Affairs at 10:00 p.m., opposite Rescue Me over on FX and Memphis Beat on TNT.
The second season finale of Dinner With The Band (10:30, IFC) features Andrew WK, who is pretty much always good for a few surprises.
And finally, at 11:00 on FX, Louie is back with more delicious comedy from Louis CK.