Tonight's TV: The Food Network Brings A New Vision Of Instant Restaurants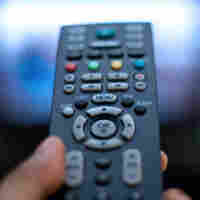 Somehow, my brain would like me to tell you that Big Brother (8:00 p.m., CBS) and Rebel Monkeys (8:00 p.m., Nat Geo Wild) are on opposite each other. Somewhere, buried in my subconscious, is the idea that these two things are related.
They are also, however, on opposite the far less chaotic So You Think You Can Dance (8:00 p.m., Fox).
But back to the chaos for a moment: If you've always wished that every episode of Hoarders was more like the absolute most depressing episodes of Hoarders, you'll want to catch Animal Planet's new show, Confessions: Animal Hoarding (9:00 p.m.). Ew.
Top Chef rolls on at 9:00 p.m. on Bravo, followed by Work Of Art. Do you like cooking? Art? Petty disagreements? You've come to the right programming block!
BBC America, meanwhile, has its delightful lineup of unscripted shows at 9:00 p.m. (Come Dine With Me) and 10:00 p.m. (The Choir). If you haven't given these a spin, please do.
Finally, the Food Network is premiering a new show called 24 Hour Restaurant Battle, which will challenge people to invent and open their own restaurants in 24 hours. And in the following 24 hours, the Food Network will declare them to be master chefs and give them their own shows and lines of cookware! Ha ha! Just kidding, Food Network!
In fairness, I realize this is being made to look rather dire, and it isn't, entirely. There is an episode of Psych (10:00 p.m., USA). People enjoy that, right?