Tonight's TV: This 'Wipeout' Episode Title Makes Even Me Uncomfortable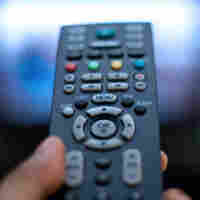 I totally agree, incidentally, with Fresh Air's David Bianculli that summertime television is pretty great in many ways (as fond as I am of doldrum references), but tonight is not really a night to appreciate very many of those ways. Just hang on, though, because as I wrote today, that Sunday Mad Men premiere is great.
Tonight's episode of Wipeout (8:00 p.m., ABC) is called "Screw You Banana." I do not know what this means. Let me rephrase: I hope I do not know what this means.
New Burn Notice (9:00 p.m., USA)! Also: new Royal Pains (10:00 p.m., USA).
Another one is voted off So You Think You Can Dance (9:00 p.m., Fox), leaving only five. Herd's getting mighty thin over there.
In case there is any angle from which Bethenny Frankel hasn't been filmed, tonight's episode of Bethenny Getting Married? (10:00 p.m., Bravo) (outdated, since she got married two episodes ago) covers her experience with childbirth.
Of course, if you're not into televised labor pains, there's always Ace Of Cakes (10:00 p.m., Food Network) or the new Futurama (10:00 p.m., Comedy Central).