Tonight's TV: Twice The Ramsay And Simmons, Plus Some Robbins And Snider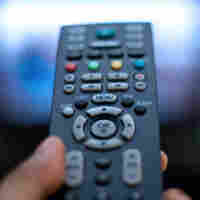 Now that Jillian Michaels's reign of inspirational terror has ended (...for now), isn't it time that you finally got your life whipped into shape by a kindler, gentler, gianter person? NBC sure thinks so, and Breakthrough With Tony Robbins premieres tonight at 8:00, as the motivational speaker and his 72 teeth brings his magic to a pair of newlyweds.
Tonight we get a rare glimpse of the elusive DoubleRamsay, with episodes of Hell's Kitchen (8:00) and the new Masterchef (9:00) on Fox. (Okay, not that elusive.) Since the latter is being touted as "the search for the best home cook in America," it's possible that there will be less screaming, though there are no promises.
Life goes on without Captain Phil on The Deadliest Catch at 9:00 on Discovery. Other shows with new episodes include White Collar (9:00! USA!), HawthoRNe (9:00! TNT!), Rescue Me (10:00! FX!), Kathy Griffin: My Life On The D-List (10:00! Bravo!) and Louie (11:00! FX!).
In tonight's music-people-with-reality-shows category, we've got a new episode of Trey Songz: My Moment (10:00! BET!), two new episodes of Gene Simmons: Family Jewels (9:00 and 9:30! A&E!) and the premiere of Growing Up Twisted (10:00! A&E!), which stars Twisted Sister frontman Dee Snider and his oh-so-kooky family and this idea is seriously so bottom-of-the-barrel that frankly everybody involved should be embarrassed, and that includes me for telling you about it and you for reading.